Bar owner cuts ties with Lion and brings in boutique brews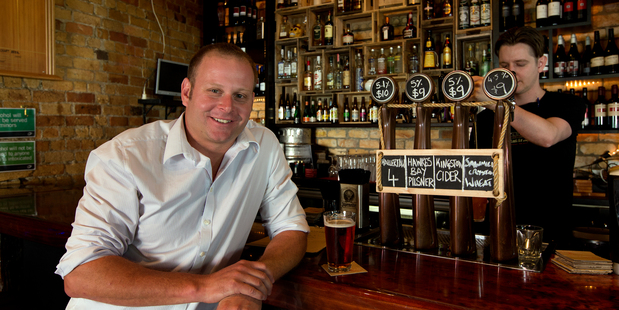 Auckland bar owner Evan King has just been through a divorce, of sorts, and now he's loving his new-found liberation.
Until last month his Newmarket establishment, The Lumsden, was locked into a supply contract with Lion under which he could sell only the brewing giant's beer and wine brands.
The agreement even limited the range of spirits the bar could serve.
When the contract came up for renewal, King says he was disappointed by discussions he had with Lion over a new arrangement.
"The person who was supposed to negotiate with me had no idea about the volume (of product) that we'd been through in five years - no clue whatsoever," he says.
"The feeling I got from the meeting was, once you're in contract with Lion, you're theirs."
Despite being offered a cash incentive - which he will only say was a "tidy sum" - to sign a new contract, King decided to cut his ties with the brewery and last week the bar re-launched as The Lumsden Freehouse.
It now has eight craft beers on tap from Kiwi breweries including Epic, Leigh Sawmill, Hallertau and Tuatara.
And King says the number of taps will double over the next two weeks.
"The whole thing about being a freehouse is we're standing out," he says. "You've got Lion bars all around Newmarket."
Carl Vasta, founder of Kapiti Coast brewery Tuatara, says there's been a strong trend in Wellington of bars cutting their ties with the big brewers and Auckland is about five years behind in the growth of independent, specialist craft pubs.
It's been almost impossible for craft beer makers to break into the Auckland pub market in the past due to the big brewers' stranglehold on many establishments, Vasta says.
"But in the last year or two things have been changing."
King says the response to his change has been "absolutely phenomenal" and sales are up about 25 per cent already.
"Craft beer is the fastest growing segment of the alcohol industry in New Zealand - it had 16 per cent growth last year and there's a following behind it that's very strong."
Customers are savvy and are prepared to spend a couple of dollars more to drink a craft beer they know is not mass produced, King says.
He says he also likes the way craft brewers look out for one another.
"All you ever hear from the big breweries is them slamming each other."
King says Lion will get worried if it begins to see Auckland's on-premise market going the same way as Wellington's.
"Put it this way ... I probably spent $300,000 a year purchasing Lion product because I had to."
He says that's just a drop in the bucket compared to the brewer's total New Zealand revenue, which was $613.2 million last year.
"However, if four bars of my size decide to go independent, that's more than a million dollars in sales gone - that starts to add up."
Lion would not comment on its relationship with The Lumsden, but external relations manager Judy Walter said the company was not concerned about the rise of independent pubs.
"Outlets want brands and products that are going to sell and we are confident we have a range of great brands that consumers want to buy," she said.
Having a quality, lasting relationship with bar operators was not only about price, but also about product range, service, back office support and Lion's investment in marketing.
"That is what Lion is known for and that's why we have such a strong presence in the on-premise market," Walter said.
"We have built that reputation over decades and the majority of our customers also really enjoy the simplicity of having one point of contact as opposed to dealing with numerous companies and sales people."
King admits he has a lot more accounts to pay now, but he believes a well-organised spreadsheet should keep his affairs in order.
There are other drawbacks involved in cutting the cord, he adds, not least the loss of the hefty cash incentives - sometimes as much as $200,000 - the big brewers sometimes offer.
"Having that money's nice."
King also says the margins are 15 to 20 per cent slimmer on craft beer, but he hopes increased sales will compensate for the smaller mark-ups.
"Our craft pricing has only gone up, on average, a dollar a pint from what we were selling mass-produced beer for, but the number of return customers has increased."
And just because his bar has gone independent doesn't mean it won't stock beers made by the major brewers.
There's even a few bottles of Lion Red in the fridge for a long-term customer who won't drink anything else.