China scholarship an investment in next generation of farming leaders, writes Fonterra chairman John Wilson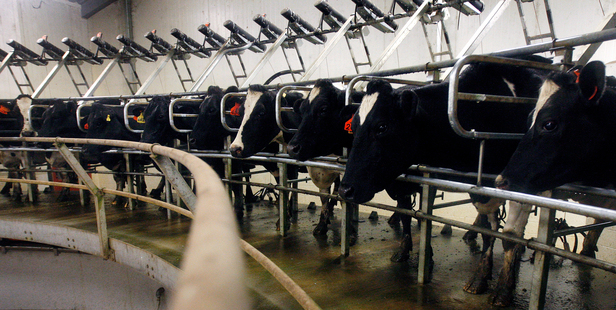 Our world is developing an enormous hunger for protein, with the World Health Organisation predicting the demand for food doubling by 2050.
China, which will have 1.45 billion mouths to feed by 2020, has done a good job of feeding its people. Now it is looking ahead to ensure its people are well and safely fed and that agricultural land is environmentally protected and productive to ensure food security. Fonterra sees a significant opportunity to share in this challenge, through education and collaboration, as well as investment to build our integrated dairy business within China.
Sadly for many years there has been worldwide underinvestment in education in agriculture and the science to support food production. We are making up for lost time now.
With the rapid adoption of modern farming technologies, agriculture is an increasingly important part of the economy.
There is a rising demand for well-educated people who will thrive on the challenges of feeding a growing population, enhancing food security, and finding ways to develop supply chains that achieve scale without compromising quality.
At Fonterra, we are passionate about supporting the education of future generations of people who will work in the global dairy industry.
That passion comes from what we are - a co-operative, owned by more than 10,500 farmers who produce the milk we sell around the world.
That is why we actively contribute to China's growing dairy industry with investment in the most modern thinking and knowledge about food science, farming the land and caring for animals.
By working hand-in-hand with the local dairy industry, leading universities and the community, this focus on Chinese animal husbandry and food science will help drive the development of the local industry in China.
The Fonterra Scholarship is offered among five top food science and veterinary universities. It reflects our commitment to investing in the next generation of food science and animal husbandry leaders, and contributing to rural communities in China.
We are also sharing our deep knowledge about on-farm operations with local farmers. For the past three years, we have worked with the Ministry of Agriculture and sponsored farmer training programmes.
We will continue to work with the Ministry to help more local farmers by sharing knowledge with the Chinese dairy industry about farm management and quality control systems.
We are making this investment in the future of the Chinese dairy industry because we are part of it.
As the word co-operative suggests, we believe you can achieve more by working together than working alone and it is a perspective we bring to our relationship with China.
We are building a high-quality milk supply within China by developing Fonterra dairy farms.
Our five farms in Hebei province will produce 150 million litres of milk a year. Ultimately, we want to produce one billion litres a year of high-quality milk from our China farms by 2020.
China's government has a vision of an integrated dairy industry - similar to Fonterra's own model. This begins on farms and ensures a high-quality, safe product reaches the hands of consumers and customers.
Fonterra has a bold vision: To be the natural source of dairy nutrition for everybody, everywhere, every day. We believe in setting our sights high, but we do so knowing we have strong foundations to build on.
We will continue to provide products from New Zealand so demand can be fully satisfied - while building an integrated dairy business in China that complements our exports.
We will continue to give back to the community through our scholarships, our farmer training and our support to the Soon Ching Ling Foundation which is improving access to medical services for women and children in rural areas of China.
And we will continue sharing our knowledge and international best practices so China's dairy industry becomes recognised by the world for its robust quality systems and processes.
The meetings and discussions we have had during our week in China will make an important contribution to our future relations with this market that is so important to the future growth of our co-operative - and New Zealand's future prosperity.
This article is based on a speech John Wilson gave to agricultural science students and faculty members at Shanghai Jiaotong University this week during the New Zealand trade delegation visit to China.