Second-ranked creditors, linked to failed firm, get money ahead of customers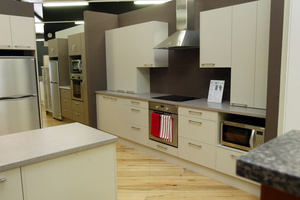 A Wellington couple, who face losing money paid to a kitset kitchen business before it went bust, said it was galling that remaining funds were due to go to trustees linked to two of the failed firm's directors.
Kitchen House went into receivership last year owing $2.4 million and putting 35 staff out of work. About 25 customers had paid about $170,000 in deposits before it collapsed. Kitchen House had required customers to pay 20 per cent deposit.
According to a decision from the High Court yesterday director Brian Smaill transferred $177,876 from Kitchen House to a solicitor's trust account to be held in the name of the company.
This transfer was in anticipation of the appointment of receivers as Smaill wanted the funds to be set aside to enable customer deposits to be refunded.
Receivers from KordaMentha were subsequently appointed by Hong Kong and Shanghai Banking Corporation (HSBC) and demanded the $177,876 be returned to the company's account, which it was.
However, these funds were not needed to pay back HSBC, which was the company's first-ranking creditor.
Then last May, the company's second-ranking creditors - Brisma Ltd and Walsma Ltd - appointed Tauranga-based Anthony Harris as second receiver and KordaMentha said it handed over control of the company's affairs.
Harris' latest receiver's report said Brisma was trustee of the Brian Smaill Trust and Walsma a trustee of the Walter Smaill Trust.
According to the Companies Office, Brisma and Walsma are the shareholders of CGKH, which traded as Kitchen House. Brisma is directed by Brian Smaill and Walsma is directed by his brother Walter Smaill, who was also a CGKH director.
While Harris considered that the $177,876 should be paid to secured creditors (Brisma and Walsma) he sought directions from the High Court after some customers claimed the money represented deposits being held for their benefit.
Justice Murray Gilbert delivered his decision yesterday. He ruled the $177,876 did not represent trust monies held for the benefit of customers and was "available for distribution to the company's creditors in accordance with all applicable priorities".
Harris did not foresee money being available to meet obligations to unsecured creditors who include customers who paid deposits and trade creditors, which the report said were owed $417,211.
Andy Morse and Rowan White paid $2600 to Kitchen House. "We find it absurd, really, that customers walking in off the street can be financially penalised for the way a company manages and accounts for its own business ... I've learnt that every time you pay a deposit on you should consider it a bet, frankly. Apparently when you pay for something you're not entitled to get it," Morse said.
Asked if the situation where money was due to go trustees linked to two Kitchen House directors was galling, Morse replied: "Yes, it is galling. That is really, kind of, twisting the knife, isn't it?"
Harris' lawyer, Howard Thompson, yesterday said: "The Smaill brothers put money into the company and they had a security interest, much as the bank did, to secure the money ... That's how capitalism works. People put money into the companies and they take security, if that's what they've negotiated, in order to protect their positions."