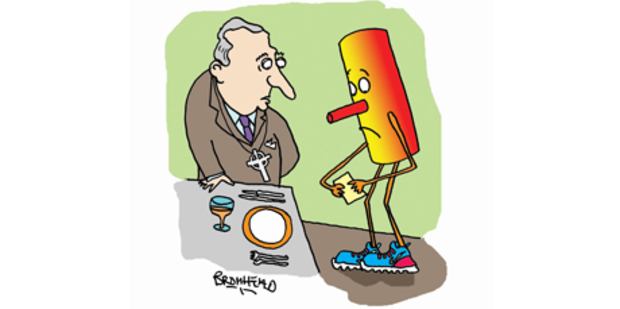 Deciding at the last minute to attend a lunchtime address by Lord Monckton, the demonised climate-change sceptic, I hurriedly travelled to Auckland from my distant holiday house.
I arrived at the Northern Club with minutes to spare, leaving no time to change from my faded jeans and somewhat bright blue Nike trainers, apparel verboten under the club's dress code.
Discreetly entering the dining room, packed with the usual soberly attired attendees, I hoped to find an unobtrusive place at the back of the room. To my horror, I was led to the head table to join the guest of honour, Lord Monckton, and local dignitaries, including Don Brash and Dame Rosanna Meo.
The Lord accepted my dress apology with grace - possibly a case of one eccentric recognising another. For his part, Monckton displayed a large silver antique crucifix on his shirtfront, unusual ornamentation when combined with a silk Hermes tie and bespoke clothing.
I was tempted to ask him about the Christian icon, which appeared at odds adorning the chest of a scholar and former journalist whose lucid rationality on climate matters would have led me to presume he would follow in the philosophical footsteps of Christopher Hitchens, noted for stating "religion poisons everything".
I understand why Monckton is a climate-change sceptic. He's both a classics and mathematics scholar and a considerable part of his address focused on unravelling the mind-boggling mathematical forecasts presented by climate scientists that in turn, have led to waves of alarmist "greenie" evangelism, giving both politicians and traders opportunities to invent devious new ways of taxing people.
Monckton will find a sympathetic audience as he travels south into rural New Zealand.
He is scornful of ETS and carbon tax, believing the system is an audacious folly that only lines the pockets of government and brokers.
His reasoning closely follows that of scientists such as Professor Richard Lindzen, the atmospheric physicist, who believes the public have been beguiled into misguided hysteria over a global temperature increase of a few tenths of a degree based on highly uncertain computer projections and the simple fact that the planet's climate is always changing.
On the front steps of the club, following the lunch, Lord Monckton commented on the beautiful weather.
"That's global warming for you." I responded.
Debate on this article is now closed.