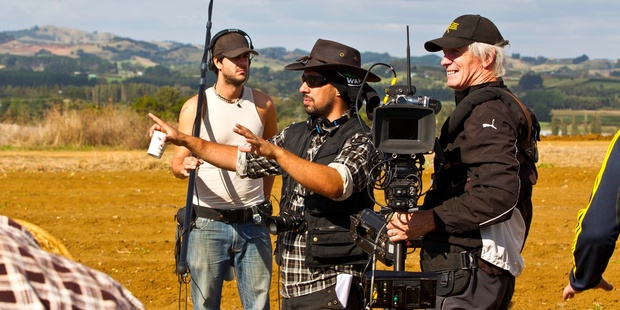 A bumper year for the New Zealand film industry saw revenue soar beyond the $3 billion mark in 2012, according to figures out today.
Statistics New Zealand said there were 40 feature films completed in New Zealand during the last financial year, five more than the previous year.
That powered revenue past $3 billion for the first time since the Screen Industry Survey began in 2005, said Statistics NZ spokesperson Hamish Hill.
"The breakthrough has been aided by a surge in feature film revenue, which rose almost 50 per cent in 2012 to more than $1 billion," Hill said.
"This shows New Zealand's film industry is expanding from its success in creating and producing world-class content."
Gross revenue from the industry was $3.29 billion last year, up from $2.98 billion the previous year and $2.87 billion in 2010, according to Statistics NZ.
Production and post-production sector revenue grew nearly 20 per cent to $1.67 billion, an almost 20 per cent hike on 2011. The production and post-production sector is responsible for content creation, which includes making films and television programmes.
Film revenue increased by 47 per cent to $1.04 billion and television broadcasting revenue grew 4 per cent to $1.30 billion.
More than 500 one-off or stand-alone television programmes were made.
The number of businesses involved in creating television programmes and commercials, as well as broadcasting and distribution activity grew from 2,739 in 2011 to 2,805 last year. In 2010, there were 3,078 businesses.
A total of $162 million - the same as in 2011 - was generated by people going to film screenings. At a typical price of $16 per ticket, that equated to more than 10 million visits to the cinema.
New Zealand Film Commission chief executive Graeme Mason said it was "fantastic" to see films being made that created revenue and employment.
International attention was being drawn to the local industry and New Zealand as a place to visit and do business, he said.
The commission was currently involved in more than 20 local feature films in various stages of pre-production, production, post-production.
"I also want to take my hat off to the independent films being made out there - together these efforts are having a huge impact on a screen sector going from strength to strength," Mason said.
Statistics New Zealand said "the continuing success of Wellywood" played a big role in the sector's growth.
Revenue from film in Wellington generated $828 million in 2012, up 67 per cent from $495 million.
"In 2012, Wellington was home to 60 per cent of all post-production businesses in New Zealand, compared with 31 per cent for Auckland and 10 per cent for the rest of New Zealand," said Statistics NZ.
"More specifically, Wellington is a leader in digital graphics, animation, and effects."
Kiwi-made feature films released last year include Sione's 2: Unfinished Business, The Hobbit, The Red House and The Most Fun You Can Have Dying.