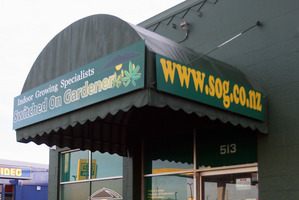 Switched on Gardener was compared to a leopard that hasn't changed its spots during an application for a court order that would effectively close it down.
Prosecutor Ross Burns told Auckland District Court today the chain of 16 stores was continuing to sell cannabis-growing equipment, despite the owner, general manager and associated companies being convicted of drug offences.
The Crown is seeking all shares in Stoneware 91, Switched on Gardener's trading company, and Hydroponic Wholesalers, the company that supplies its equipment.
Switched on Gardener owner Michael Quinlan and general manager Peter Bennett, as well as both companies, have been convicted of supplying equipment used to cultivate cannabis.
Mr Burns said the companies were an integral part of the offending and controlled by Quinlan. He said the shares should be handed over, despite some shares in Stoneware 91 being owned by Quinlan's wife, Paula.
"The dominant purpose of the companies has always been to supply equipment for cannabis."
The application for forefeiture of assets is running alongside a similar bid by the Crown to seize Quinlan's million-dollar properties in Gulf Harbour and Queensland and almost $190,000 in cash.
Stoneware 91 is estimated to be worth $1.5 million by the company accountant.
Quinlan's lawyer Paul Davison QC said the shares in the companies were not used for offending and his client had stepped back from his role as a hands-on director long before the period of offending.
He said the company had changed its ways since Quinlan was charged in 2010. Changes include no longer selling "vases" which the Crown said were bongs.
"My learned friend [Mr Burns] has used the phrase 'leopards don't change their spots'. But if the leopard had not changed its spots, then one can be confident that detectives would not stand back and allow it to continue to trade."
Paula Quinlan's lawyer Peter Spring said Stoneware 91 documentation did not show Quinlan's involvement. He said if the leopard had not changed its spots it would be back in "its cage".
Mr Spring said the company had operated lawfully since the arrests in 2010 and some Switched on Gardener merchandise was also sold by Mitre 10.
He said his client would suffer undue hardship if the Stoneware 91 shares were seized by the Crown and called on Mrs Quinlan to give evidence.
Under questioning from Mr Burns she was asked when she realised people were buying equipment from Switched on Gardener to grow the Class C drug.
"I never thought that," Mrs Quinlan answered.
The part-time receptionist - who lives with her husband in the Gulf Harbour property - told the court her beliefs had not changed since her husband and Bennett were convicted after a nine-week trial last year.
Under the Sentencing Amendment Act, passed last September, property can be forfeited if considered an "instrument of crime", although a judge can decline the application if the seizure would cause undue hardship to offenders or their families.
The law also means a judge must take into account the financial loss and consider a lighter sentence or discharge.
If the Crown's application is successful, the assets will be transferred to the Official Assignee.
Judge Gus Andree Wiltens reserved his decision but said he would release it before Quinlan and Bennett are sentenced later this month.
During the nine-week trial, the court heard recorded conversations between undercover agents and Switched On Gardener staff.
Three Switched on Gardener employees were acquitted of drugs charges and belonging to an organised criminal group. They include business development manager Ricky Cochrane, distribution manager Andrew Mai and South Island manager Paul Barlow.
- APNZ