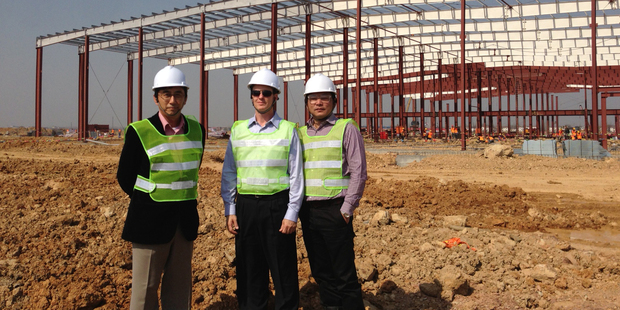 An Australian-headquartered chief executive, whose family hails from New Jersey, is heading a project to develop a Chinese manufacturing plant for a Penrose-headquartered company - and talking about what constitutes laid-back Kiwi style when it comes to opening a big new factory. Welcome to the global marketplace.
Meet Paul Zuckerman, Fletcher Building's 49-year-old Melbourne-based laminates and panels chief executive, who has been travelling to China on a bi-monthly basis following the September 2011 announcement of the the Kiwi firm's $200 million Asia push.
The centrepiece of that is a $75 million plant which will have 5ha of indoor floor. Construction is about 50 per cent complete and the plant will begin to turn out initial Formica products around September, with a formal opening ceremony due around November.
About 250 to 300 people will then be working at the Jiujiang plant, a one-and-a-half hour flight inland and southwest of Shanghai.
It will provide manufacturers with materials for kitchens, benchtops, cupboards, tables, doors, walls, desks, furniture and cabinetry in a market Zuckerman says is becoming increasingly sophisticated.
"We're leading edge and seen as a Western high-quality and innovative product with stylish design giving people what they're looking for with very modern-style Western kitchens in their houses or modern-style Western cafes, often called Euro kitchens or Euro cafes. That kind of style is what people want. You go to a Starbucks in China, it's packed with people reading, working on their computers and those places are more and more frequented.
"You can see that where there used to be old counter-tops in wood, now they're putting in cabinetry and benchtops and tabletops that are very sleek and modern-looking. It's a continuation of the growth of the middle-class, which is more affluent, and of more urbanisation," Zuckerman says.
Zuckerman, appointed to his role late last year, says the Chinese like the look of either real stone or high-end laminated stone-look products for residential benchtops and commercial countertops.
Wood-grain look cabinetry is popular, as are are high-gloss products in extremely bright, accent colours, particularly when people want to liven up small spaces, often in rooms with only one wall of windows.
Despite slowing growth in the major centres of Beijing, Shanghai and Guangzhou, smaller second and third-tier cities are still investing in buildings at previously unseen growth rates, he says.
Formica Group picked the southern part of China for its plant partly because of the local government.
Executives had a list of more than 12 sites, so to narrow options they allocated points to benefits such as geographic suitability, access to transport and cost.
"We weighted these factors and came up with an overall score which gave two to three sites. And then we went around and talked to the local governments," he says. Officials in Jiujiang turned out to be by far the best.
"They're very supportive. They make the land available and they're building the roads, gas and electricity services for the development. They're very inviting to us, looking for ways to make sure our - and their - project is a success because they want to attract more investment."
Zuckerman counts Formica Group as fortunate to have had a skilled team of seven local Chinese professionals at the time that area was picked.
For the past six years, Fletcher, which has been in China for more than 20 years, has owned a smaller manufacturing plant at Qing Pu on the outskirts of Shanghai.
"It's been easier at Jiujiang because we already had a facility, so we've built up a good management, technical, and manufacturing team and they're on the ground. They're all local people."
Although Formica Group does not own its land, it has a 50-year lease and pays rent. It will own the buildings, plant and equipment and pay lucrative taxes in the area, which Formica China marketing director Birdie Chao said would be $3 million to $6 million annually.
Zuckerman says building is about half complete. "Most of the ground work and digging of pits and pouring of concrete is complete. The first phase is a 25,000sq m main building. All up, the two main manufacturing buildings will be just under 50,000sq m under-roof.
Jiujiang is a small town by Chinese standards, of 1.5 million people, yet the area is growing fast.
"It's still pretty new in development. The city government building is a large-scale office block and the amount of construction going on: the sports stadiums and exposition centres, in a town that no one's even heard of," Zuckerman says.
"The airport in the next town over, Nanchang, is absolutely huge. It looks bigger than Melbourne's airport.
"They're building for the future and this local government has spent a lot of money up front, projecting something like 20 years [ahead for] what they're going to need and building that now."
Zuckerman lists one of the biggest challenges as matching capacity and output of the new plant to sales.
"We have to build demand at the same time," he says of the plant which will have a large format press, producing highly desirable 6ft x 14ft sheets.
"They're short of that around the world and one of the key requirements in Europe are these large format products which are cut or split into sheets to make two 6ft x 7ft panels for walls or four 3ft x 7ft panels for interior doors."
Formica Group uses high-quality artisan decorative craft paper, usually from countries like Germany or Japan, which is treated then encased in resin so the decorative finish is seen from one side, or sometimes both sides.
The new plant is designed to exceed emission requirements and an anti-pollution thermal oxidising unit will burn waste gases, converting them into clean air. No smoke or odours will be emitted.
Chao says the new plant will significantly boost capacity.
"Production out of our new facility in Jiujiang (phase one only) we expect to average 4 million sheets per year or roughly 16 million sq m per year."
Paul Zuckerman invites people to join him on Twitter, @paulzuckerman1, where he posts regular updates.
Jiujiang
* Second-largest prefecture-level city in Jiangxi province
* Where Fletcher's Formica Group is building its new plant
Formica Group
* Original inventor of laminate
* Products used in commercial, retail, fast food chain stores, hospital, transportation and education projects
* Held in Fletcher Building's laminates and panels division