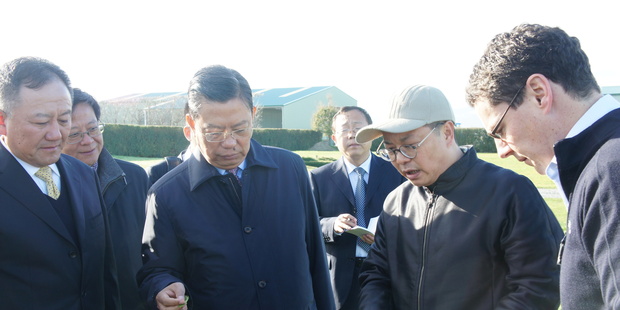 Agria boss Alan Lai wants to merge PGG Wrightson's seeds business with his own Chinese seeds operation to form a new company to compete with the "giants like Monsanto".
"If we integrate the New Zealand seeds business with Agria Seeds we will have a business that can go global," says Lai.
"It would make PGG Wrightson's seeds business even stronger and have much greater international presence. We could leverage it on both sides."
Lai shared his vision for the seeds business at an interview in Auckland. "In three years we could be in the top 10 seeds companies in the world . That is our vision. In 10 years we want to be US$10 billion turnover."
Agria holds 51 per cent of the iconic New Zealand rural services firm.
It initially bought into PGG Wrightson when the debt-ridden company was caught short after the global financial crisis. Lai says the Chinese side has not intervened at management level since the asset was bought. But he indicated a desire to have a much bigger say in future strategy.
The Agria chairman - now running the shop since former Agria CEO Xie (XT) Tao suddenly departed last year along with other former executives who had come from PwC's Chinese stable - also chairs PGG Wrightson's agritech committee at board level.
Details of the prospective shareholdings in the proposed company are vague ("sensitive" is the word Lai uses). Lai reckons the proposed breakdown goes like this: Agri has 51 per cent of the Wrightson seeds' business but 100 per cent of China Seeds. Post the merger (and some prospective M&A activity in the US) PGG Wrightson would have less than one-third of the new company.
"With the combination between PGGW and China Seeds, we are number two in the world and we are looking in the next three years to be number one.
"I believe there is a natural synergy between PGG Wrightson Seeds and Agria Seeds to make a company to compete with the giants like Monsanto. The integration will give PGG Wrightson much more extensive access to the Chinese market as well."
Lai said Agria was prepared to adjust the 51 per cent (in the PGG Wrightson Seeds business) to bring more benefit back to the New Zealand firm. He notes the New Zealand side is relatively quite large (it has operations in New Zealand, Australia and Latin America). China Seeds is smaller but has sported 50-60 per cent annual growth in the later three years with profit growing at 30 per cent - a "few million US dollars' profit".
Lai is not proposing an IPO on the Hong Kong exchange (this was earlier floated by XT).
He says Agria has a "perfect platform" on the New York Stock Exchange. At a strategic level he sees an opportunity for the new seeds company to leverage the fast-growing China and Latin American regions.
But it's not just all about selling grass (pasture) seeds. PGG Wrightson Seeds is strong in forage.
And with China rapidly building huge mega-dairy farms (Lai knows of at least 40 with more than 10,000 cows on each farm), he believes there is a big opportunity to grow forage in China to cut-and-carry to the animals.
Lai estimates this business could generate at least US$25 million in annual revenue by 2017 - rising to US$200 million turnover within 10 years and realising at least US$40-$50 million annual ebit.
"It is important to build a structure where we are number one in the chain for all the forage and grasses. Now 95 per cent of the modern dairy farms in China are buying forage from overseas.
"I want to appraise them I can do it locally in China with the pasture farming system there, and with good quality seeds, the pasture and forage [will be good quality] as well. The revenue will grow much much faster than what we are just doing with seed in the next five years.
"Making us number one in the world as a forage company and making New Zealand more proud - that is the company I am helping to create."
The proposed merger of PGG Wrightson Seeds into a bigger Agria-controlled company will have to be carefully handled.
PGG Wrightson Seeds is spearheading a Primary Growth Partnership programme with Grasslanz Technology Limited to deliver innovative forages for New Zealand farms.
The full programme is valued at $14.6 million, with PGP funding contributing $7.15 million over six years.
The company says the Seed and Nutritional Technology Development programme aims to develop new technologies that improve animal productivity and animal health, while overcoming adverse environmental impacts.
PGG Wrightson has also formed an agreement to develop agriculture in China, including developing agricultural showcases in the Guangdong, Shandong and Yangling provinces.
The first agreement aims to develop a high-profile agriculture showcase to be called "The China Guangdong-New Zealand Agricultural Showcase", with the Crop Research Institute of Guangdong, the Academy of Agricultural Sciences and Guangdong Golden Crops Agricultural Science & Technology Co.