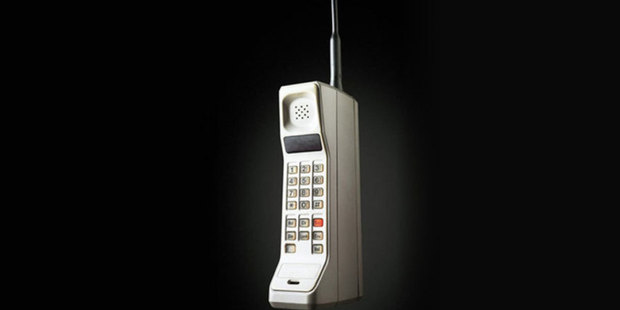 It's hard to believe that the humble mobile phone has finally hit middle age. On April 3rd, 1973, Marty Cooper - an engineer at Motorola, made the world's first call from a mobile phone, calling Moto's arch rival, Bell Labs - and boasting that Motorola had a working mobile phone.
Calling it mobile however didn't mean pocketable. The phone in question was a prototype of the Motorola DynaTAC 8000x, which later became known in New Zealand as the "yuppie phone". Back then yuppies must have been pretty fit as the DynaTAC weighed in at a whopping 1.13Kgs - imagine carrying a brick to make phone calls and then imagine the sound of tearing fabric as you tried in vain to pocket it.
Funny thing is that instead of getting a little grey around the temples and developing a beer gut, the mobile phone has stayed young, evolving at a crazy pace over the last 40 years. If you were to travel back in time to 1973 and show Marty Cooper your Samsung Galaxy 4 or HTC One X, chances are he wouldn't recognise it as a phone.
This said, 40 years later Marty would probably be pleasantly shocked at the degree to which his creation has taken on a life of its own - according to research done by the international telegraph union in 2011, there were at least 7 billion mobile phones in use - more phones than there are people on earth. If that's not a measure of success then I don't know what is.
Even more bizarre is research Conducted by GoodMobilePhones.co.uk, which found that an alarming 31 per cent of brits claimed to have damaged a handset with water. Alarmingly, The toilet bowl was the tragic destination for 47 per cent of all water-damaged phones.
Nowadays the mobile phone is barely used for what it was originally built for. Most of us rarely use our phones for making voice calls. For most of us the smartphone has become the gateway to our online lives. Be it sitting at an airport or catching the bus, odds are if you look around you, chances are good that you'll see people tweeting, texting, facebooking or even emailing.
So if your smartphone rushes off and buys a sporty red silicon case, or even hooks up with that blonde Bluetooth accessory, don't get upset, just remember that your mobile phone is probably finally having a midlife crisis.