Restaurant Brands is aiming to open up to 60 Carl's Jr stores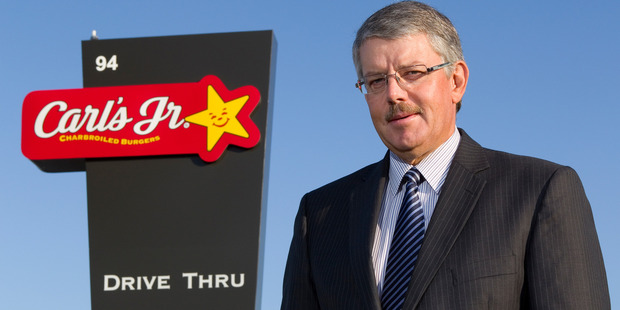 The Carl's Jr burger chain has the potential to generate up to $180 million in annual sales for Restaurant Brands if its bullish store roll-out target is reached.
The Auckland-based firm, which reported a dip in full year net profit yesterday, now has three Carl's Jr stores open and plans to cut the ribbon on six to seven more during this financial year.
Restaurant Brands chief executive Russel Creedy said each Carl's Jr store was expected to turnover around $3 million annually.
He said that was slightly ahead of the company's KFC fried chicken brand, whose sites had annual sales of about $2.5 million each on average.
KFC, which operates 89 stores in New Zealand, yesterday reported sales of $237 million for the year to February 28.
Restaurant Brands, which also operates Pizza Hut and Starbucks in this country, is aiming to open up to 60 Carl's Jr stores nationwide, which based on the $3 million per store expectation means the chain could eventually contribute annual revenue of $180 million.
Creedy said the newest Carl's Jr store in Queen St turned over more than $100,000 during its first week of business last month and continues to trade strongly, with customers often queuing out the door.
"With the university back it's very, very busy at lunchtime and in the evenings," he said.
Creedy said he hadn't been surprised by the strong take-up of the brand by Kiwi fast-food consumers.
"It's what I expected - I've got a lot of belief in the brand and I think it's going to do incredibly well over a long period of time."
Carl's Jr is run in New Zealand by two separate franchisees - NZX-listed Restaurant Brands and Forsgren NZ, which is part-owned by former All Black Michael Jones and operates several stores in Auckland including those in Henderson, Glen Innes and Takanini.
Restaurant Brands' Carl's Jr stores in Mangere and Palmerston North, which opened in November and December respectively, contributed $1.9 million in revenue to the group's full-year result.
But the two stores posted an earnings before interest, tax, depreciation and amortisation (ebitda) loss of $500,000 - as forecast - because of set-up costs.
Restaurant Brand's full year group revenue rose 1.3 per cent on the prior year to $312.8 million, with strong sales at KFC and Pizza Hut - as well as the addition of the two Carl's Jr stores open during the period - offsetting a lacklustre performance by Starbucks.
Full-year net profit dropped 4.5 per cent on the previous year to $16.1 million.
Creedy attributed the fall in profit to higher overheads resulting from "projects" at the firm's head office.
Starbucks' sales fell 5.1 per cent to $25.1 million.
Restaurant Brands' shares closed up 11c yesterday at $2.83.