All Good trio are keen to expand the business beyond fruit, while sticking with their fair trade strategy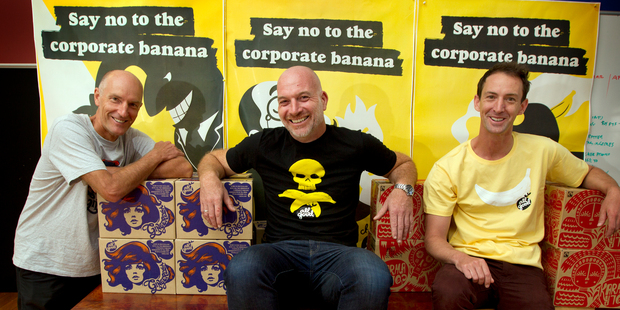 Few things are more likely to focus the mind on the sharp end of business than having to shift a container load of bananas before they rot.
The prospect of having some expensive compost on their hands got the guys behind All Good bananas down to the local supermarket, meeting and greeting customers.
But it wasn't just about moving a perishable product.
It was a way for company founders Simon Coley and brothers Chris and Matthew Morrison to tell a story about what made their bananas different to the seemingly identical product sharing the supermarket shelves.
Captured succinctly in the company name, All Good is about growers benefiting directly from the sale of an environmentally sustainable product which is also good for the consumer, says Coley.
"Our maxim is: good for the growers, good for the land and good for consumers," he says.
Since early 2010 All Good has imported only Fair Trade certified bananas grown by farmer co-operatives in Ecuador.
The original plan had been to bring fresh fruit from Samoa, where Chris Morrison had connections from his days as owner of organic drinks brand Phoenix.
New Zealand's love affair with bananas - we reportedly eat more per capita than anywhere else in the world - meant the market was ripe for the picking.
Landing a few pallets of Samoan bananas in 2008, Coley admits they were pretty naive, discovering the small but delicious fruit didn't travel well and tasted best when a commercially unappealing black.
They learned a lot, he says, and undeterred, started researching the fair trade business model.
It led them to one of the earliest Fair Trade certified co-operatives, a group of banana growers in El Guabo, Ecuador.
Fair Trade ensures the farmers, often on small plots without access to working capital, get certainty through a stable, year-round price and the ability to reduce or do away with chemical sprays.
A little over three years down the track, All Good has taken a 5 per cent bite out of a New Zealand banana market worth between $160 million and $200 million a year, says Matthew Morrison.
"We should be able to double that within the next couple of years," he says.
Growth is not limited to encouraging New Zealanders to chomp their way through more Fair Trade bananas.
This summer All Good launched drinks Karma Cola and Gingerella ginger ale made with ingredients sourced from Fair Trade producers in locations from Sierra Leone and Papua New Guinea, to Paraguay and Sri Lanka.
Ultimately they'd like to take the drinks to a global market, telling the story of the provenance of the ingredients to consumers, says Matthew Morrison.
And it's not a big leap to go from bananas to fizzy drinks, Coley says.
"We're talking the same message; we're being transparent; we're linking our suppliers through to the customer ... and we're interested in developing other lines and it may not be fresh fruit or beverages, it may be something else in grocery.
"So we're about a branding and marketing company that is trying to encourage consumers to link with suppliers and we would like to see as much food and beverage coming from an ethical source so we do that by telling stories and linking those growers through to the consumers," Coley says. It's garnered the All Good team an international gong last month from New York-based think tank Ethisphere, publishers of a global ranking of ethical companies.
Chris Morrison says the collapse of Enron and the global financial crisis has shone a light on corporate behaviour, with organisations such as Ethisphere emerging to independently evaluate business ethics.
Ethisphere puts All Good in the company of corporate giants such as tech company Cisco, American Express and clothing retailers H&M and Gap.
There are now 10 staff working from the company's bright yellow Grey Lynn headquarters and the three founders are in the midst of planning to take the business to the next level.
"We haven't determined how to do that. It is very hard to grow organically just through your own cashflow especially when you've got a lot of opportunities and a lot of demand. That's a challenge for many businesses," says Chris Morrison.
To date the investment has been mainly around expertise, say Coley, and with the All Good business not yet big enough to support them all the time, each has other ventures.
Coley, for example, is the design nous behind online energy retailer Powershop.
When he's battling away for not much reward it's satisfying knowing someone at the end of the supply chain is being helped, he says.
"I think it's a really good way of measuring success that other people have benefited from it."