Winning ride may be at an end as tycoon with larger than life personality to match fast-won fortune faces up to financial ruin.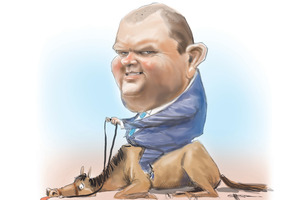 When Nathan Tinkler bought champion colt All Too Hard, he seemed to have the world at his feet. Now the name of racing superstar Black Caviar's half-brother seems grimly prophetic.
First, Tinkler was forced to sell All Too Hard, with one of his stud farms, to a group of investors led by retail giant Gerry Harvey for A$28 million ($34.8 million), despite the many millions the horse is expected to earn on the track and at stud.
Now the 37-year-old mining entrepreneur is dumping his entire thoroughbred business, operated by his Patinack Farm group, spread over studs training 400 horses and holding more than 500 broodmares, yearling and foals.
And bigger storms are raging. The former billionaire's fortune has been savaged by coal's plummeting fortunes, his assets roughly match his debts, and he is being pursued through the courts.
Notoriously abrasive and quick-tempered, Tinkler has long maintained that reports of his financial problems are the product of a vindictive media - "f *** off" has been a widely reported comment - but reality is rapidly sheeting home.
In court in Sydney last month after flying back from Singapore to avoid arrest, Tinkler estimated his corporate debts at about A$500 million. His shares in his primary investment vehicle, Whitehaven Coal, have fallen to a similar level.
Unless Tinkler can reverse his tide of woes, the days of private jets, Ferraris and luxury homes may go the way of his thoroughbreds.
It has been a ballistic ride for Australia's business wonderkid, emerging from obscurity as a mining electrician to be on the billionaire's list and, briefly, the nation's richest person under 40.
His boisterous, corpulent presence was everywhere: in boardrooms, Australia's business pages, Forbes magazine, among the sporting elite, and astride the coal industry as it soared with the resources boom.
Tinkler came from humble, hard-working stock. Born in Inverell in New South Wales' northern tablelands, he and his family were rocked by the failure of his father's earthmoving business and their move to a tougher life in the coastal town of Maitland.
Tinkler began working life as an apprentice in a Hunter Valley coal mine. At 26, he formed his own company and in 2006, he saw his chance. Mortgaging his home and borrowing against his business, he and partner Matthew Higgins raised A$1 million to buy Middlemount mine in Queensland for A$30 million.
The deposit had never been tapped, but through a Sydney investment bank they raised another A$2 million on its potential, and secured further substantial funding from Hong Kong's Noble Group in exchange for a one-third share of the mine and a supply contract.
A year later, Tinkler sold his Middlemount holding to Macarthur Coal for A$57 million in cash and A$184 million in Macarthur shares. In 2008, when Macarthur's shares soared in a takeover bid, he sold out for A$422 million.
Tinkler's sharp eyes turned elsewhere, never mining himself but buying on potential and selling high. He bought Maules Creek mine in 2010 for A$430 million on just A$22.5 million down, and sold 25 per cent to Japanese buyers for almost A$700 million.
Later, he floated his company Aston Resources, retaining A$600 million of its value, and in December 2011 merged with Whitehaven Coal. Tinkler's wealth soared, peaking at about A$1.2 billion last year.
In the meantime, he had ridden as white knight to the rescue of Newcastle's soccer team the Jets, and its Knights rugby league team. He had tried, but failed, to buy a half-share in Dick Johnson's Ford V8 Supercar team, and created a A$250 million thoroughbred empire.
Then the axe fell. Coal prices slumped and Tinkler's wealth was almost halved. As his empire crumbled, reports emerged of bushfires in all its parts: claims that he had not be able to afford feed for his horses, of failure to pay rents and trainers, of staff not being paid superannuation, of mounting debts and growing anger among creditors.
He tried unsuccessfully to take over Whitehaven and spill its board. His deals with the Jets and Knights crashed, with threats of legal action.
Last year, as his problems compounded, he moved to Singapore with wife Rebecca and four children, renting two adjacent mansions in one of the city-state's most exclusive enclaves. He returned this year, after being threatened with arrest if he did not appear at a NSW Supreme Court investigation of a failed company, Mulsanne Resources.
He was pursued by the Tax Office, real estate developer Mirvac, and engineering contractor Sedgman - all of whom later settled - and variously by smaller creditors.
Higgins, his former partner, has taken Tinkler to the Queensland Supreme Court in a dispute over revenues from Tinkler's launching pad, Middlemount mine.
And in Sydney, Blackwood Corporation has placed Mulsanne Resources in liquidation over its failure to proceed with the purchase of a one-third stake in the coal explorer. Mulsanne's promised stake, worth A$28.3 million, was to have funded Blackwood's coal operations in Queensland.
For the moment at least, Tinkler's coal business is the pits.
Nathan Tinkler
• Aged 37.
• From the Hunter Valley, New South Wales.
• Once a mine electrician.
• He made his initial fortune by buying and selling an undervalued Queensland coal mine.
• He became Australia's youngest billionaire and coal baron behind the Tinkler Group.
• Tinkler is these days based in Singapore.
Debts
• Tinkler has debts of about A$500 million.
• His fortune was savaged by a slump in coal prices.
• One of his companies, Mulsanne Resources, was wound up over a A$28.3 million debt.
• In February he faced two days of questioning in the NSW Supreme Court examination of his personal finances by Mulsanne liquidators.
Aircraft
• Tinkler's executive jet and helicopter have already been put up for sale by receivers.
Horse racing
• Patinack Farm thoroughbred operations - comprising about 1000 horses and several properties in NSW and Queensland - have been put on the market at a potential price of A$100-$200 million.
• Patinack Farm includes a 1335ha racing and breeding operation in the Hunter Valley, another 975ha in the Hunter Valley and 4050ha near the Gold Coast.
• The sale will also include lifetime breeding rights to star colts All Too Hard and Onemorenomore.
• Tinkler says he is quitting racing to focus on core operations in resources, property and infrastructure.
Rugby league
• Owns the licence to the Newcastle Knights NRL team for the next 10 years.
• He provided a A$20 million bank guarantee in the event he abandoned the Knights. On January 1 that was reduced to A$10.3 million.
Soccer
• Owns the Newcastle Jets team through the Hunter Sports Group.
- AAP, nzherald