Contact slides further over concerns about Tiwai Pt smelter.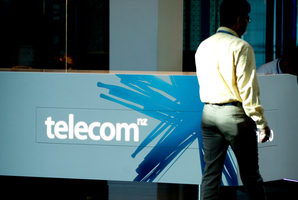 New Zealand shares rose, led by Telecom as investors digested its plan to slash costs while Contact Energy extended its slide on concern the possible closure of the Bluff smelter could leave power companies with even more surplus capacity.
The NZX 50 Index rose 1.43 points, or 0.03 per cent, to 4412.85. Within the index, 25 stocks rose, 20 fell and five were unchanged. Turnover was $159 million.
Telecom gained 3.6 per cent to $2.45. Last month the company announced plans to strip out as much as $110 million in annual costs by cutting up to 1230 jobs, in addition to job cuts at its Gen-I unit in Australia. The phone company has a dividend yield of 14.2 per cent.
"People are considering the restructuring changes that are being announced - there's definitely been more broking reports on Telecom," said Shane Solly, portfolio manager at Mint Asset Management. "A pretty healthy dividend yield is also helping it along."
Among other stocks often held for their dividend, lines company Vector gained 1.8 per cent to $2.89 and Kiwi Income Property rose 1.3 per cent to $1.15.
Power company Contact declined 2.2 per cent to $5.39 as the war of words continued between the Government, Meridian and smelter owner Rio Tinto over the cost of power to the facility.
"There's oversupply in the wholesale [power] market as it stands," Solly said. "Contact is already being impacted."
Summerset, the retirement village operator, gained 1.9 per cent to $2.70 and rival operator Ryman Healthcare rose 0.2 per cent to $5.09. Metlifecare rose 0.9 per cent to $3.24.
OceanaGold, the operator of the Macraes gold field, fell 9.8 per cent to $3.05 as better economic data out of the US sapped the appeal of gold as insurance against a downturn. Spot gold fell as low as US$1563.06 an ounce, a four-week low.
NZX, the stock market operator, rose 1.5 per cent to $1.36 and Heartland bank climbed 1.3 per cent to 76c.
Port of Tauranga rose 1.1 per cent to $13.85.
Fletcher Building, the biggest company on the NZX 50, halted its slide, gaining 0.1 per cent to $8.45.
Fisher & Paykel Healthcare, which gets more than 50 per cent of its revenue in US dollars, fell 1.9 per cent to $2.56 as the kiwi dollar climbed above US84c.
Jeweller Michael Hill International fell 2.2 per cent to $1.35.