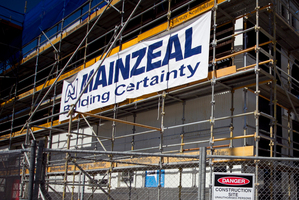 Mainzeal liquidators were asked about the possibility of fraud at a creditors' meeting in Auckland today.
But the liquidators batted away questions, saying they were still at an early stage of investigations into the failure of what was New Zealand's third largest construction company.
Brian Mayo-Smith and Andrew Bethell of BDO Auckland answered most of the questions from more than 150 creditors who met at Ellerslie to talk about the collapse.
Creditors met today at 2.30pm and were dispersing just before 4pm, with the BDO liquidators promising to post a full list of the newly formed creditors' committee on its web site tomorrow morning.
One creditor wanted to know if the Serious Fraud Office was involved.
"We have not been contacted by the SFO, nor have we contacted them. Its far too early to say if there are any matters that require their attention," Mayo-Smith told the meeting.
About 200 Mainzeal workers were made redundant and hundreds of contractors were locked out from building sites following the collapse of the company in February.