Chinese authorities say the company which markets New Zealand kiwifruit to the world has taken part in a $10 million smuggling rort. Zespri says it was assured the scheme was legal. Geoff Cumming reports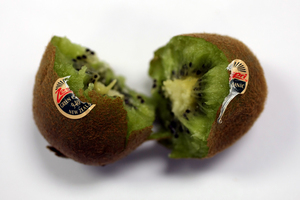 Kiwifruit growers remember him as The Potato Man - Zespri's senior Asian executive who once made disparaging comparisons about the appearance and taste of the fruit which each year earns New Zealand more than a billion dollars in export returns, a healthy slice of it in China.
Yu-Jan Chen rose from being top man in Asia to "global president of sales and marketing" at Zespri, the single-desk monopoly which guides the fortunes of kiwifruit growers in much the same way that Fonterra controls dairying.
Chen would often attend growers' meetings but a couple of years ago seemed to slip from their radar, the Weekend Herald was told. That was around the time allegations first surfaced of a major import duty avoidance scam surrounding gold kiwifruit sold into Shanghai.
Yu-Jan Chen was named in Parliament this week as wanted by Chinese Customs investigators over his alleged role in the fraud, the value of which could exceed $10 million.
Zespri's Shanghai marketing branch, Zespri Management Consulting Corporation, was last week found guilty of being an accessory to the under-declaration of Customs duties by its contracted importer, Liu Xiong Jie, over a three-year period. The management company (ZMCC) was convicted of smuggling general cargo and fined nearly $1 million. Its China manager, Joseph Yu, was sentenced to five years in jail for being an accessory. The judge said he had played a minor role and therefore received a "light" sentence.
The Shanghai court ruled that up to $10 million in illegal gains from the fraud should be repaid. Kiwifruit growers already battered by huge crop losses to the vine-destroying Psa virus, fear the bill will ultimately be passed on to them, along with Zespri's mounting legal costs. The company's lawyers believe the "illegal gains" stem from an arrangement between importer Liu and ZMCC to offset marketing expenses against payments due.
Yu, who travels on an American passport, is a Taiwanese national understood to have family in New Zealand. He is appealing his sentence.
Liu was last year jailed for 13 years, fined $7.6 million and ordered to repay $7.3 million in tariff losses after pleading guilty to underpayment of Customs duties. The charges relate to the period 2008-2010. He, too, is understood to have lodged an appeal.
Zespri this week also appealed against the ruling and says its Shanghai-based legal team has strongly advised it not to publicly discuss the case.
Whatever the outcome, the case is a huge embarrassment to Zespri, a state-legislated monopoly exporter with myriad critics at the best of times. Nor will the court ruling have pleased Prime Minister John Key on the eve of a trade mission to China with senior ministers Tim Groser (trade), Stephen Joyce (economic development) and Murray McCully (foreign affairs) on board.
The more charitable observers view it as another example of one of New Zealand's biggest companies showing naivety and inadequate governance over business arrangements in China. It suggests Zespri's board and management learned little from Fonterra's experience with joint venture San Lu in 2008, when milk powder was found to be doctored with melamine. San Lu's subsequent collapse cost Fonterra $200 million.
Some with expert knowledge of trade into China suggest duty avoidance or minimisation is a normal part of doing business there and Zespri was perhaps unlucky. But the allegations against an executive as highly placed as Chen have fuelled speculation over the extent of Zespri's knowledge of the rort.
Zespri has plenty of enemies - among struggling growers and others campaigning for the single-desk marketer to be opened to competition - and the secrecy surrounding the case has not helped to quell the speculation.
The question many growers are asking is to what extent Zespri knew about - or tolerated - an obviously illegal ruse to rip off the Chinese Government. "They are trying to place all the blame on their agents when the reality is they were 100 per cent complicit [in issuing two sets of invoices for shipments]," one grower told the Weekend Herald.
The Chinese investigation began in 2011 but sources told the Weekend Herald that Zespri was warned as early as 2008 that duty avoidance was taking place. But the company has told growers it relied on the importer's word that the use of "deemed value" invoicing was acceptable to Chinese Customs.
On this basis, Zespri's Mt Maunganui head office issued pro forma (estimate) invoices to Liu for Customs purposes and later invoiced him for the actual sales value.
Zespri told growers before the court case that as part of due diligence, it was told by "reputable multinational China-based advisers ... that such agreements could exist and may not be committed in writing."
Greg James, a tax consultant with WHK who spent six years working in China, says such arrangements are not unusual in a number of countries. "In Zespri's defence it is very difficult to pick these issues up as, when questioned, you will get half-truths or questions evaded and if you can not speak Mandarin or read Chinese it is even more difficult to figure out what is going on."
Kiwifruit Growers Incorporated, the organisation which officially represents growers, has launched its own inquiry into the case.
KGI chief executive Mike Chapman says the judgment suggests the evasion was confined to the parties so far identified: importer Liu, Joseph Yu, ZMCC and - allegedly - Chen.
In Parliament on Tuesday, New Zealand First leader Winston Peters was not waiting for the results of any inquiry.
He asked Trade Minister Joyce whether he was concerned the case would damage trade and diplomatic relations with China given that China was trying to crack down on "fraud and corruption" and that Yu-Jan Chen had a detention order placed on him by Chinese authorities.
Joyce responded that the case "serves as an important reminder to all companies operating in international markets that they must ensure that they meet the local laws".
The Act Party has seized on the scandal to revive its long-running campaign to expose the single-desk marketer to competition.
Its primary industries spokesman Don Nicholson asked in a press release: "What grower would want to associate with a company that has been involved in criminal activity?" Nicholson claims KGI lacks sufficient independence from Zespri to conduct a rigorous inquiry, a charge that Chapman rejects.
Growers demanding more transparency on the company's revenue streams are also dismayed that Chen is still on the payroll.
Chen is Zespri's highest paid offshore executive, on a salary exceeding $1.4 million.
He was appointed general manager Asia/America in April 2000 and global president of sales and marketing in April 2011.
He is understood to have returned to New Zealand earlier this year to negotiate a severance agreement which ended inconclusively.
He has not returned to China since the detention order was issued and is believed to be in Taiwan, his country of birth.
The company says Chen is "currently away from active duties" while it conducts a review and will not comment further on his employment.