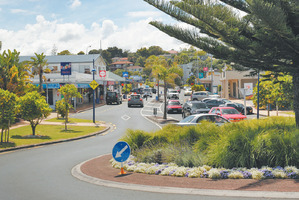 With its safe swimming beach and a relaxed shopping precinct, Mairangi Bay epitomises all that is good about the East Coast Bays.
Locals love the fact that the sea is on their doorstep and they can have a swim before work, at lunchtime or in the evening at a beach that has its own surf lifesaving club. After a swim - or a stroll along the popular coastal walkway - residents can pop across the road for a bite to eat or a drink in the village, which has boutique shopping and eateries but also provides all the services of a town centre. A Saturday morning farmers market has also been a huge hit.
The vibrancy of the village is matched by the energy of the Mairangi Bay Business Association, which has a comprehensive website about the area - mairangibayvillage.co.nz - and puts out a monthly magazine with news and views. Business association vice-chairman and treasurer, Debbie Jones, who is also branch manager of Bayleys Mairangi Bay, says the area's decile 10 schooling - including being in-zone for popular Rangitoto College - is a major attraction for families.
Residents are also close to Massey University's Albany campus, and the Millennium Institute, a leading sports centre, is just up the hill.
Debbie says there were 132 sales completed in the area last year, ranging in price from $400,000 to $2.4 million, with most in the $600,000 to $900,000 range.
Debbi Lyons, of Barfoot & Thompson, says residents tend to stay in the area, trading their housing up or down depending on their life stages.
"Mairangi Bay Primary School, with its relatively small roll, has an excellent reputation that draws young families into the area, and Chinese immigrants are increasingly seeking to own property here whilst older residents are always keeping an eye out for suitable properties to downsize to that will enable them to stay in the area," she says.
The area now known as Mairangi Bay was bought from Maori by Joseph Murray in 1880 and became known as Little Murrays Bay because Murrays Bay, to the north, was the larger settlement. The name was eventually changed to avoid confusion and in 1912 Murray sold the farmland to developers who subdivided it for holiday home sections. Mairangi Bay remained a holiday destination until the opening of the harbour bridge in 1959 started a rush of development on the North Shore. Tony White, of Harcourts, says, "Developed in the 1960s and 70s, the houses are typically weatherboard bungalows or big solid affairs with concrete block base and clinker brick or vertical cedar cladding on full sites. The odd bach still survives although many of these have been pulled down to make way for large, modern family homes. There are a few brick-and tile-home units near the village - very popular with retirees for the level access to shops and the beach."
Tony says the council bought several waterfront properties a few years ago and converted them to a public reserve, making for an ideal picnicking spot by the beach. Alex Beasley, who lives in Hastings Rd and has his hairdressing salon attached to his home, says he had "always liked the idea of Mairangi Bay". "I grew up in Belmont and always felt the pull to come back to the North Shore," says Alex, who bought his home 10 years ago."Mairangi Bay has got a good village feeling, a nice beach and I like the schools."
His home has sea views, and his three boys love the fact that the tennis courts are right behind their house. "From our house it's three minutes' walk to the shops and five minutes to the beach," he says. "If I have a late start in the salon, I'll go for a swim before work but if I can't do that I'll usually go after work."
BEST STREETS
Whitby Cres, Brighton Tce, Montrose Tce, Sidmouth St.
SCHOOLS IN THE AREA
Mairangi Bay Primary, St John's School, Murrays Bay Primary, Murrays Bay Intermediate, Rangitoto College, Westlake Boys and Girls high schools.
MAIRANGI BAY BEACH
While the bay has its own surf lifesaving club, the waters here are generally pretty calm making it safe for swimming from the golden sand beach. There is no boat ramp but dinghies and jet skis can be launched from the beach. Back from the beach is a playground and a picnic area.
COASTAL WALKWAY
If you have the legs for it, you can range far and wide from Mairangi Bay on the Coastal Walkway. Heading north, the route takes you as far as Long Bay or you can go as far south as Devonport. The coastline is marvellous and the waterfront mansions along the way are intriguing.
MAIRANGI BAY FARMERS MARKET
The market is in the carpark behind Green Gables and started in May 2010. It runs every Saturday from 8am to noon and features fresh produce, baked goods, gourmet foods and handmade crafts.