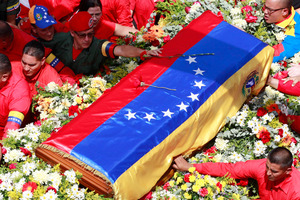 GRAVE OVERSIGHT
John Key was in no hurry to rejig his South American foray to join 30 other foreign leaders at the funeral of Venezuela's Hugo Chavez. He did note that Venezuela bought lots of milk powder, but one wonders how closely he looked at the export figures. Last year Venezuela was our fifth biggest market for milk powder, butter and cheese - $454.2 million worth. It is also one of the fastest-growing markets; those sales have risen 420 per cent in a decade. Successive governments have stressed that New Zealand's foreign policy is governed by trade considerations, so Key might have thought it worthwhile to doff his hat to the late President Chavez, even if Washington disapproved.
WAR OF WORDS
Labour, people in the IT world, and those interested in patent law are wondering when the Patents Bill will resurface. Following its second reading last year, the bill was pushed down the order paper after a row broke out over two little words: "as such". The legislation had said "a computer program is not a patentable invention", but Commerce Minister Craig Foss wants to change that so the provision applies to a computer program "as such".
Foss says the words make little difference; critics say they would water down the bill. There have been no signs of progress and the bill now languishes at 26th place in the Government's order of business.
FIT TO LIVE IN
Whispers continue to waft around Wellington that ministers are favourably considering some sort of "warrant of fitness" system for rental housing and other buildings. Those supporting the idea point to the work being done by the Energy Efficiency Conservation Authority, on an environmental rating system for buildings. The authority is introducing the National Australian Built Environment Rating System for measuring and comparing the environmental performance of buildings, even though it already uses the Green Star system. Apparently, while Green Star works well for new buildings, the Australian rating system is better for older buildings. Could it form the basis of a wider building warrant of fitness system?
WELCOME TO NZ
The Insider was intrigued this week by the results of a BNZ survey which asked employers for their advice to job-hunting migrants and returning expatriates. Among the sober tips about learning the language and fitting in with the locals, there were a few gems - possibly tongue in cheek. Such as: "Be proactive in your search, make eye contact, learn to parallel park". Or, this from one employer: "Outside Wellington and Auckland, quality of intellectual capital thins out and the style of communication becomes more basic, which requires a change in approach."
KEEP WORKING ...
The issue that John Key dare not face - lifting the age of eligibility for superannuation - has been getting an airing in Britain, where the Institute of Directors this week suggested that working until you're 70-plus will soon be "the new norm". Britain's state pension age is already set to rise to 66 in 2020, and 68 by 2046. But the Institute of Directors wants the age to reach 70 by 2044.
INCOMING
The Beehive should be fitted with revolving doors as ministers continue to travel the world. It isn't all one-way traffic, though - overseas visitors to Parliament include Burmese President U Thein Sein, Afghan Foreign Minister Zalmai Rassoul and Thai PM Yingluck Shinawatra. As well, many Pasifika leaders came to Auckland for the Pacific Energy Summit.
One of those on the road is Trade Minister Tim Groser, who added the stamps of Morocco, Nigeria and South Africa to his passport as he lobbies for the position of director general of the World Trade Organisation. John Key's work in Latin America may not help; candidates from Brazil and Mexico are considered the favourites among those seeking the job. Nor can the Indonesian candidate be ruled out - that country is to host the next WTO ministerial conference as attendees search for signs of life in the Doha round of trade talks. Murray McCully is also working hard at securing a seat on the UN Security Council - his dream retirement job?
ADVICE TO REMEMBER
One thing lost in the little furore over David Shearer's brain fade on declaring his overseas bank account in the MPs' register of pecuniary interests, is that if he had put the asset into a family trust, as many MPs do with most assets, no one would ever know he had forgotten about it.