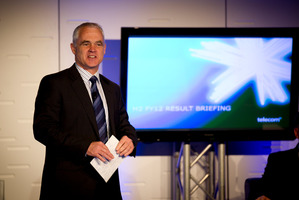 Telecom could be set to axe up to 1500 jobs, in what would be the single largest job loss of any single company in New Zealand.
Labour's communications and IT spokeswoman Clare Curran says Telecom are set to announce up to 1500 job cuts.
Telecom has already cut 373 permanent jobs, and future cuts are believed to be planned over two to three years.
In February, Telecom boss Simon Moutter said the telco would cut jobs from its base of 7603 staff, and did not rule out more than a thousand jobs going.
Ms Curran said she had been told by a source that Telecom would make the cuts this month, and the board of the company were due to meet next week.
"The ICT sector is strategically important to our economy and it essential to a high-growth, high-wage nation.
"This is a loss of skills and knowledge that will bite for years to come. These are not low wage, low skill jobs. These are the sort of jobs that we want more of.''
Ms Curran said research from Parliamentary Library showed it could amount to the country's largest loss of jobs from a single company.
Speaking at the firm's financial results announcement last month, Telecom chief executive Simon Moutter said jobs at the company could "run well into the hundreds".
This afternoon Moutter said there was "no new news" on the job cuts front.
According to a Telecom spokesperson the company could not yet provide a "definitive number" on what job cuts would be.
The Herald understands job cuts are likely to be a mixture of compulsory redundancies and non-replacement of departing staff.
Asked what areas of the company would be affected, Moutter said last month:
"There is no area of the business who has not been asked to look very hard at everything we do to make sure we remove the legacy culture, the layers of middle management, the duplication of effort," Moutter said.
Telecom announced last week it would scale back operations in Australia, with an announcement it would axe about 120 jobs from the Australian arm of its information technology unit, Gen-i, leaving 60 people focusing on servicing and attracting large trans-Tasman corporate customers.
Last year the Commerce Commission announced its approval of Vodafone's $840 million takeover of TelstraClear.
When the company merged it had about 3200 employees.
- APNZ