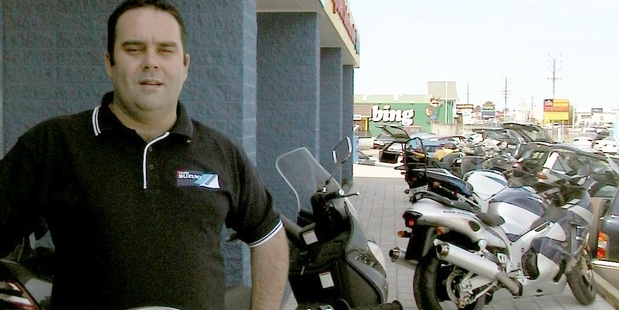 A former Tauranga businessman is on trial defending allegations by his business partner that he siphoned $625,000 from their motorbike dealership.
Glenn George Bayly, 46, whose trial began in Tauranga District Court yesterday, has denied 117 fraud-related charges.
During her opening address, Crown prosecutor Julie O'Brien told the jury Bayly had allegedly siphoned the funds from his and his partner's former business between 2007 and 2009.
The Crown alleges Bayly, who had signing rights on the company's chequebook and held bank account access codes, stole money paid to him for motorbikes either by pocketing cash and cheques or skimming funds from trade-in vehicles.
It is also alleged he made multiple false accounting entries to re-route funds to himself through the company accounts.
Two of the charges also relate to Bayly allegedly creating documents to apply for finance in the names of family members and a former employee for bogus vehicle purchases.
When the finance was paid by Motor Trade Finance, Bayly allegedly used the funds for a variety of purposes including liquidity to prevent his earlier alleged thefts being discovered.
At the time of his alleged offending, Bayly was co-director and shareholder in Glenn Bayly Motorcycles Limited, which was then trading as Moto GB in Hewletts Rd, Mount Maunganui.
The company was first incorporated in 2002, and at that stage Bayley's fellow director was Don Perry, but in 2006 the business began having liquidity problems and Perry asked Michael David Fisher to take over his 50 per cent shareholding. In March 2007, after examining the company accounts, Fisher bought a half share in the business.
Fisher, who gave evidence yesterday, told the jury that he had paid the outgoing shareholder $140,000, gave a $200,000 personal advance to Bayly to help with liquidity, paid off a $202,850 bank company loan and $55,000 to clear an overdraft. In total Fisher paid $598,122 to Perry and the company.
Both he and Bayly agreed they would be joint directors but Bayly looked after the day-to-day running of the business and received a weekly salary. Fisher said at no time was it agreed that the accused would receive any further remuneration on top of his agreed salary, neither director could apply for borrowings without joint approval, nor give loan guarantees on behalf of each other.
He said between August and September 2007 Bayly went overseas on a business trip and he assisted with the running of the business, and during that time he received multiple phone calls from the company's creditors demanding payment for overdue accounts. Fisher said the situation was so grave that he had to sell personal assets to inject another $85,000-$90,000 to cover the payments.
He discovered the vehicle debtor ledger did not tally with the number of vehicles on the shop floor and many of the bikes in the ledger had not been paid for and payments had been outstanding for some time. Fisher's accountant audited the company accounts and Bayly could not provide adequate answers about the missing money.
Fisher said he finally confronted the accused again on March 6, 2009, and Bayly broke down and allegedly admitted he had taken $212,000 from the company's account and vehicle debtors account.
The trial continues today.
For more articles from this region, go to Bay of Plenty Times