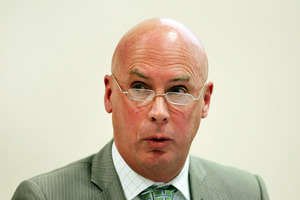 Former Solid Energy chief executive Don Elder will almost certainly appear before Parliament's commerce committee to answer questions about the stricken coal company's problems.
Committee chairman Jonathan Young late yesterday confirmed he had asked committee members to agree to formally invite Dr Elder to appear.
Opposition committee members have been calling for Dr Elder to appear but Mr Young said National MPs on the committee were also likely to give their assent.
"I'm still waiting to hear back in that regard but I'm pretty sure the whole committee will actually think this is the way to go, so I would expect probably full support."
Prime Minister John Key and his State Owned Enterprises Minister Tony Ryall also said yesterday they had no problem with Dr Elder appearing. Mr Key was "relaxed" about whether Dr Elder fronted up.
"If he wants to go and they (the board) want him to go, he's not going to get any opposition from my office."
Mr Ryall said whether or not Dr Elder appeared "is a matter for the committee, Solid Energy and Dr Elder and I don't have a problem either way".
Mr Young said he thought it likely Dr Elder would accept the committee's invitation if it was issued.
"I'm pretty sure that he'd be keen to put his side of the story."
Dr Elder headed Solid Energy for 12 years, but resigned on February 4. A fortnight after his resignation the Government revealed the company was carrying $389 million in debt and was in talks with bankers and Treasury.
This week it emerged that Dr Elder is still being paid his old salary of $1.3 million a year to work from home for a two month period.
At Solid Energy's annual financial review before the committee, current chairman Mark Ford said it was unusual for former chief executives to appear, but he would not stand in the way of Dr Elder doing so.
Mr Young said it was Solid Energy's call that Dr Elder didn't appear this week.
Meanwhile, Labour state owned enterprises spokesman Clayton Cosgrove yesterday said he would write to Mr Young to request an inquiry into Solid Energy's problems but Mr Young last night said it was too early to consider that. "Let's take one step at a time ... let's just see what Dr Elder has to say and have discussions around an inquiry later on."
Mr Cosgrove said he understood Dr Elder was paid out $1.5 million in addition to his annual salary of $1.3 million.