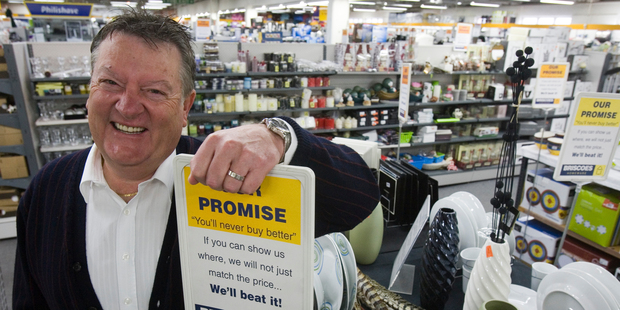 Briscoe Group, the homeware and sports goods retailer controlled by managing director Rod Duke, said annual profit rose 11 per cent to a record as sales gained more than costs, allowing the company to lift its dividend.
Profit rose to $30.5 million in the 12 months ended Jan. 27, from $27.5 million a year earlier, the Auckland-based company said in a statement. Sales rose 3.3 per cent to $472.7 million.
Briscoe's gross margin widened to 40.01 per cent from 39.52 per cent, which the company attributed to its focus on inventory management and a stronger kiwi dollar, which reduces costs of imported goods. It will pay a final dividend of 7 cents a share, making 11 cents for the year, up from 10 cents a year earlier.
"We are not counting on any significant changes during this year to the overall economic retailing environment and anticipate it will continue to be very competitive," Duke said. The company is "pleased with the start we have made to our financial year," he said, without giving details.
Briscoe's market capitalisation is $480.8 million, big enough to be included in the NZX 50 Index if not for Duke's 78 per cent stake, which limits trading in the shares. The stock rose 3.5 per cent to $2.38 on the NZX today and has gained 50 per cent in the past 12 months.
Earnings before interest and tax at its flagship Briscoes and Living & Giving homeware stores rose 12 per cent to $29.3 million in the latest year, as sales climbed 4.3 per cent to $$307 million.
Its Rebel Sport chain recorded a 13 per cent gain in earnings to $10.4 million as sales rose 1.4 per cent to $145.7 million.
Duke said the performance of the Rebel outlets was encouraging given it was cycling off year-earlier results boosted by the Rugby World Cup. Same-store sales rose 0.5 per cent and its gross profit margin rose to 39.42 per cent from 38.66 per cent.