Firm challenging for multibillion-dollar tourism project expected to be ready for 2018 Commonwealth Games.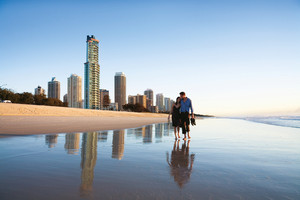 SkyCity Entertainment Group is vying with international rivals to build the Gold Coast's first multibillion-dollar cruise ship terminal and casino, ready for the 2018 Commonwealth Games.
ASF China Property, ACPI, and Ridong are competing with the Azure Consortium comprising SkyCity and Brookfield Multiplex Constructions.
The Gold Coast already has Jupiters Hotel and Casino at Broadbeach but officials have sought expressions of interest for a second entertainment venue on government-owned land to the north, at the Broadwater and Spit nearer Labrador.
SkyCity chief executive Nigel Morrison yesterday announced the Auckland-headquartered company was in the Azure Consortium with Canadian Australian giant Brookfield Multiplex Constructions.
Azure submitted a preliminary indicative proposal for a world class integrated tourism development to the Gold Coast City Council and the State Government of Queensland, Morrison said.
Singapore's Sembawang withdrew after its chief executive Ric Grosvenor said he believed there was pressure on the government to grant a licence to others with casino interests.
The winning proposal is due to be announced mid-year and it is expected that whoever wins will deliver in time for the 2018 Commonwealth Games to be held on the Gold Coast.
Queensland Deputy Premier Jeff Seeney said all the bidders wanted to develop a new cruise ship terminal at Broadwater.
ASF China Property Consortium, Azure Consortium, ACPI Consortium and Ridong Development are shortlisted by the state and Gold Coast City Council, said Seeney who is also minister for state development, infrastructure and planning.
"This project holds great possibility for the Gold Coast, with the provision of not only a cruise ship terminal, but prospects for new hotels, marina, retail, entertainment, community open space and recreational facilities," he told parliament.
Three out of four included an integrated tourism facility incorporating a new casino in their proposal.
Eight submissions were initially lodged after calls to deliver a cruise ship terminal as part of an integrated tourism development on state government-owned land on The Spit or on Wavebreak Island.
The integrated development could include hotel, casino, marina and super yacht facilities, retail, entertainment, hospitality, community open space and recreation facilities and a mix of residential development, he said.
Morrison said the process was still in its very early stages and the company would now look forward to finding out more about the government and Gold Coast City Council's goals, expectations and requirements before providing a more detailed proposal for consideration.
Not everyone is in favour of a second Gold Coast casino.
Liberal National Party defector turned independent Gold Coast MP Alex Douglas opposes it and says any new casino and cruise ship terminal would only benefit overseas investors and lobbyists.
"It will not provide economic, social or environmental stimulus to the Gold Coast," Douglas said.
"Jupiter's Casino/Convention Centre will suffer horribly, Gold Coast ratepayers will shoulder huge recurring dredging costs, and fishermen, surfers or average Gold Coast residents who use it as their central park will not benefit."
SkyCity's shares closed up 3c yesterday at $4.23.

The bidders
ASF China Property Consortium: ASF Group, China Communications Construction Company, Guangzhou Dredging and China State Construction Engineering Corporation.
Azure Consortium: SkyCity Entertainment Group and Brookfield Multiplex Constructions.
ACPI Consortium: only local Australian consortium.
Ridong (Gold Coast) Development: Chinese-backed.
[Source: Queensland Government]