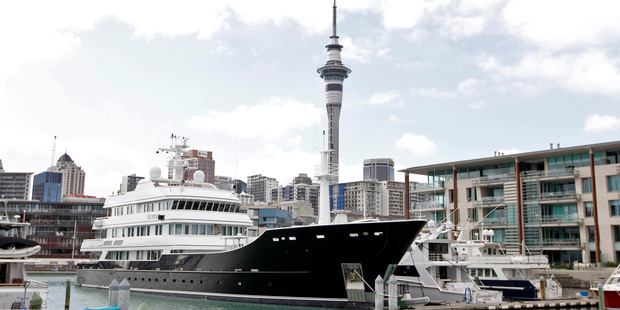 Mexican tycoon Carlos Slim has once again topped the annual Forbes Billionaires List with a cool net worth US$73 billion, while New Zealand's three richest people have all dropped places.
Slim, who owns American telecommunications company America Movil, was ranked the world's richest man for the fourth year in a row.
Now worth US$4 billion more than a year ago, the 73-year old beat out Bill Gates, Amancio Ortega and Warren Buffett on the 2013 Billionaires List.
Forbes said the number of billionaires in the world had reached an all-time high of 1,426, worth a combined record net worth of $5.4 trillion, up from $4.6 trillion last year.
"Many new names made the list thanks to free-spending consumers," said the American business magazine.
"To name a few: Diesel jeans mogul Renzo Rosso at $3 billion, retailer Bruce Nordstrom at $1.2 billion and designer Tory Burch at $1 billion."
New Zealand's richest person, Graeme Hart, came in at number 229 with a net worth of $5.3 billion (NZD$6.4 billion). The 57-year old was last year ranked 178th, valued at $7 billion.
Forbes said there were signs Hart was "having trouble" keeping his packaging empire together, with Moody's cutting the credit rating on his Reynolds Group last year.
"A boating enthusiast, he owns a 190-foot yacht, Ulysses, which is reportedly for sale, and is working on his new prize, a superyacht called Weta," it said.
Kiwi Richard Chandler, who lives in Singapore and runs a fund aimed at emerging markets, slid from 230 to 502 on this year's list.
Forbes said Chandler, aged 54, last year invested $112 million in 13.4 per cent of Union Bank of Nigeria and $74 million for a 15 per cent stake in oil and gas company WesternZagros.
He was now worth $2.85 billion (NZD$3.4 billion), down from $5.6 billion a year ago.
Younger brother Christopher split from Richard in 2006 to found Dubai-based private investment firm Legatum Capital.
"The son of a beekeeper from North Island, New Zealand, Chandler and his brother first started taking proceeds from the sale of their parents' department store and investing in Hong Kong real estate," Forbes said.
"The siblings then formed investment firm Sovereign Global in Monaco to focus on transitioning industries in Russia, Latin America and Eastern Europe. In April 2012, Legatum acquired its own building in the Dubai International Finance Centre."
Christopher Chandler, aged 53, came in at position 1342 with a value of $1 billion (NZD$1.2), down from 1153 with $1.2 billion last year.
The US boasted the highest number of billionaires (442), followed by Asia-Pacific (386), Europe (366), the Americas (129) and the Middle East & Africa (103).
The top ten
1. Carlos Slim Helu & family - $73B - Mexico
2. Bill Gates - $67B Microsoft United States
3. Amancio Ortega - $57B - Spain
4. Warren Buffett - $53.5B - United States
5. Larry Ellison - $43B - United States
6. Charles Koch - $34B - United States
6. David Koch - $34B - United States
8. Li Ka-shing - $31B - Hong Kong
9. Liliane Bettencourt & family - $30B - France
10. Bernard Arnault & family - $29B - France