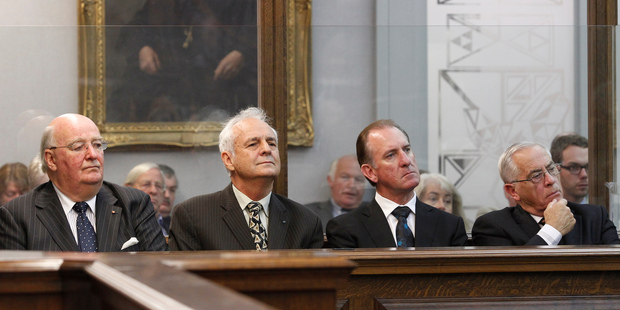 The directors of Lombard Finance did not mislead investors in a prospectus four months before the company collapsed, their lawyer says.
The four directors, including former justice ministers Sir Douglas Graham and Bill Jeffries, sat with family members in the Court of Appeal today as lawyer James Farmer QC argued against their convictions.
Graham and Jeffries, along with fellow directors Lawrence Bryant and Michael Reeves, were last year found guilty of making untrue statements about Lombard's position in its offer documents in December 2007.
Graham and Bryant were sentenced to 300 hours' service and ordered to pay $100,000 reparation, while Jeffries and Reeves were sentenced to 400 hours' community service.
Farmer told the court the directors had not misled investors in the December 2007 prospectus.
He said the key fact in this case, which set it apart from other collapsed finance companies, was not whether misrepresentations were made, but whether there were omissions.
Farmer said trial judge Justice Robert Dobson had misdirected himself on the law in crucial respects - including his finding that the prospectus was untrue because it omitted information which potential investors would rely upon.
The judge also misdirected himself on whether the directors could reasonably believe the prospectus was true, given his finding the omission had made it untrue.
Farmer said the judge's assessment of liquidity risks had focussed only on a narrow period between August and December of 2007, and there was no evidence at trial about longer-term trends.
He said the board had decided in 2007 to reduce its debt and there was no new lending.
But Justice Dobson took a "more sinister" view that it was a downward trend.
The appeal before Justices Anthony Randerson, John Wild and Christine French is set down for four days.
The Financial Markets Authority, which brought the case against the four directors in an eight-week trial last year, is also appealing against the men's sentences.
The authority is represented by Colin Carruthers QC.
The Lombard collapse, one of many finance company failures between 2007 and 2009, left 4400 investors owed $127 million.
- APNZ