There's a drive for sustainable social change, writes Alex Mercer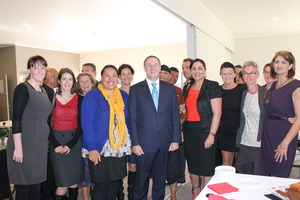 The new business revolution is being driven both top-down from some of the world's and New Zealand's largest companies, and bottom-up - by entrepreneurial activists and social changemakers.
Hard-core business people are realising that they can increase their profits by incorporating social responsibility as a part of their business strategy, and idealists are recognising that the use of market methods gives them the opportunity to create even more social value.
At Nike, for example, Sam McCracken launched the company's Native American Business which leverages the power of the Nike brand to drive athletic participation among Native American communities. At Cemex, Luis Sota works with the company's executives to develop its low-income housing solutions for Mexican consumers. And at Unilever, Vijay Sharma heads up the Shakti programme, which cultivates women entrepreneurs in Indian rural villages.
Today, New Zealand's business sector is also becoming motivated by the opportunities presented by sustainable social change.
Kordia, Gen-i, Te Puni Kokiri and Counties Manukau District Health Board are all organisations that have held a strong commitment to social impact and valued it as a core part of business strategy and implementation.
There is a growing potential for fruitful "cross-fertilisation" through partnerships and scaling solutions.
Collaboration requires a long term commitment from business and community leaders to embrace collective thinking and create opportunities for co-operation and integration rather than attacking a problem independently. Social innovation faces the same obstacles as any good idea: risk aversion, tight fiscal constraints; lack of leadership and support or insufficient capacity to innovate.
There are different ways business can support social innovation in order to increase the capacity and sustainability of local innovators creating social impact through funding and investment, management advice and expertise and leveraging networks to connect the right people to the right idea. Whether it is combating poverty through microfinance, saving lives through medical research, or encouraging philanthropy through a crowdsourcing site, social innovation has many guises.
Deep partnerships are forming between business and the community sector to move the dial on problems: youth unemployment, domestic violence, child poverty, environmental sustainability. Yet, the complexity of social change causes frustratingly slow progress. The catalyst to social change is collaboration - across private and public sectors and across organisations.
Social entrepreneurs are changemakers and pioneers. A social entrepreneur will walk a different path to achieve their mission. Some focus on local communities, some respond to national issues and some focus on children, the elderly or the environment. Where business entrepreneurs identify untapped commercial markets, social entrepreneurs see people and communities in need who have not yet been reached by other initiatives. Their commonality lies in their creativity, willingness to take risk and ability to marshal resources to make an impact.
Working in the Social Innovation space
Counties Manukau DHB is creating resources at Ko Awatea that enable blending of diverse community activities to grow innovation in health and community. CEO Geraint Martin wants Ko Awatea to transform health and social outcomes in South Auckland. SES new Zealand students will become alumni.
Te Hana Community Charitable Trust is a fantastic model for how Te Puni Kokiri and Alan Gibbs ( and other high-net worth individuals) have invested to help regenerate and revitalise a community to create economic and social development. It employs 27 people and the historic village provides a tourist asset for the wider Auckland region.