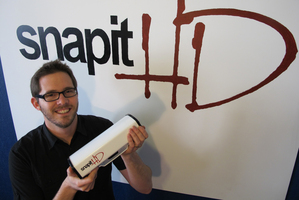 Chris and Andrew Rodley, the men behind SnapitHD, are quietly revolutionising camera technology from their hometown of Nelson.
The brothers, who come from web application and hardware design backgrounds were prompted to begin making their own cameras because of the poor quality pictures from the imported webcam their father had installed to keep an eye on his Hanmer Springs holiday home.
Chris says his father wanted to see live shots of what the weather was like before he visited.
He says their initial camera was cobbled together from a range of off-the-shelf parts. But they ran into problems when an integral component was discontinued and were forced to innovate. "We developed our own camera completely from scratch and the end product was the highest-quality in the world," he says.
Snap Information Technologies now has 60 of these cameras in operation throughout New Zealand, comprising a network which Chris claims is "the best promoter of tourism in the country", attracting two million impressions online each week during the Christmas holiday break.
The newest creation is generating substantial international buzz. Dubbed snapitHD3, the product is a single-shot camera that captures a 360-degree field of view. The solar-powered devices have no moving parts, which means an unlimited number of users can simultaneously connect to the camera and "look around as if they were standing right there".
United States interest is high with the team fielding inquiries from giants Boeing and Nasa, Google and the American military. "This shows innovation doesn't always have to come from those with extensive experiences inside the industry," says Chris. He credits the brothers' "fresh perspective and a little naivety" as helping them developing a range of products.
The company is wary of targeting too broad a market at this stage. It is focused on its philosophy of organic growth and although there may come a time to seek outside funding, it is outside their current strategy.
Snap Information Technologies obtained MBIE Science and Innovation Group funding in 2011 through a regional business partner at the Nelson Regional Economic Development Agency (EDA) to help develop its latest 360-degree live network camera. The R&D funding was the springboard to gaining exposure in the United States, most notably at the world Consumer Electronics Show in Las Vegas.
The company's strategy includes the development of Nelson as a hub for technology and innovation. "The goal is for people to be doing world class, incredible things right here in Nelson."
Chris explains that this starts with building support networks within the region; a process which has attracted strong support from the local government and business community. "Long-term it's about developing Nelson as a location, so innovative companies don't have to leave.
"We've got the global marketplace in reach and a wealth of talent to be nurtured right here in Nelson."
Their own business represents a model for the viability of the Nelson concept.
With the help of locals it has initiated its entry into the United States' market without shifting any core components there.