A joint venture between Unitec and IBM aims to create 400 new jobs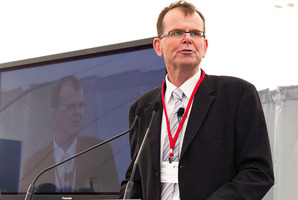 A new collaboration between computing giant IBM and Unitec is being touted as a "game-changer"for New Zealand which will "blur the boundaries"between tertiary education and the workforce.
IBM's first "delivery centre" launched at Unitec's campus in Auckland this month and hopes to create 400 jobs over the next two years.
The facility will employ undergraduate students and post-graduates as well as professionals to provide services to the business sector.
While students get access to part-time work that is organised around their study timetable, businesses get access to a skilled, scaleable workforce that can be called upon for projects when needed.
Westpac New Zealand is the new initiative's first client and has signed a five year-contract with the delivery centre, which will employ 120 computing students to provide the bank with IT services.
"They'll be primarily-focused on software development ... it will be on a project-by-project basis but where we have the most demand will be in the development of software and applications for our mobile and online technologies," says Westpac New Zealand's chief operating officer Jim Stabback.
"We've only just kicked off this arrangement. So we'll start with small pieces of work to gain momentum and to build knowledge and capability and as we get more confident and the capability starts to develop then we can extend that into bigger pieces of work or things that are potentially a bit more complex," Stabback says.
The bank's decision to sign a contract with the new venture was informed by Westpac Australia's long relationship with an IBM delivery centre at the University of Ballarat. IBM Australia staff had crossed the ditch to help set up the facility at Unitec, based on the "highly successful" model at Ballarat.
At the launch, Unitec chief executive Rick Ede said the initiative was resting "solidly on the foundations" of what was established in Australia. "It's about blurring the boundaries between the worlds of learning and the worlds of working.
"The only way we can ensure our students are work-ready when the they leave Unitec is being in partnership and in collaboration with business ... I'd love us to have a marketing slogan for Unitec students: 'have three years of work experience when you get your first job," he said.
Ede said some of the benefits of the link with IBM had already been realised. "Already we have IBM staff providing input into our curriculum, teaching on programmes. The relationship with IBM will create a series of internships with IBM and their clients and create new opportunities for research projects," he said.
As well as advantages for students and Unitec, Ede said the delivery centre offered New Zealand business the chance to get services catered for locally. "It will drive productivity, innovation and service outcomes that [New Zealand] clients need ... it makes it win-win for education, for business, for Aotearoa.
"We have to lift our game as a country even further and to do that it does mean doing things differently. We have to think differently about what our strengths are and more important think differently about what our strengths could be and open up new ways of working across traditional boundaries. I love the term 'innovation on the interface' and I think you'd agree that what we have put in place with IBM today more than meets that definition."
IBM New Zealand's Jennifer Moxon calls the partnership between the computing firm and Unitec a "game-changer".
"I believe this delivery centre and IBM's collaboration with Unitec is a game changer for our country. In years to come it will show that tertiary providers through creative partnering with business can directly contribute to smarter business and New Zealand's economic prosperity. What's more it is a terrific opportunity to us to build jobs and help students kick start their careers," Moxon says.
One of the first Unitec students involved in the facility, Nathan Ganly, says he hopes the centre does just that. "It's a great opportunity for us students to bridge the gap between graduation and the skills required to actually start the job. Normally when you graduate from uni as a computing student you go and get yourself a graduate position if you're lucky enough to find one and then they train you up to be a bit more competent and then you can work in the industry... the model that IBM's using with Unitec means when we leave we're more likely to get roles do the work we wanted to do when we started studying," the 26-year-old says.
As well as employing students like Ganly, the partnership between with IBM will introduce the "earn as you learn" programme to Unitec. This allows computing students to get hands-on experience while they are studying and guarantees them a job with IBM when they complete their studies. IBM will be taking its first intake into the "earn as you learn" scheme in 2014.