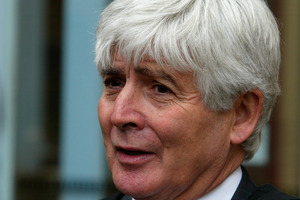 Struck-off lawyer Barry Hart will now be able to appeal being declared bankrupt after filing a security bond for the hearing.
Yesterday, Justice Rhys Harrison struck off Mr Hart's appeal, in part because he was not able to pay nearly $6000 security cost set by the registrar.
However, today a bank cheque for the payment was given to the court.
Justice Harrison said while the delay was regrettable, "it has the likely effect of answering the bank's application".
The hearing will be held next month.
Mr Hart will appeal against a decision in December by the High Court which granted an application by the ANZ National Bank to have him declared bankrupt.
His appeal was set to be heard on February 13, but the registrar set security for costs of $5880.
Mr Hart applied to have the costs waived, but the application was declined and he was ordered to pay the money before the hearing.
An application to have the hearing adjourned was also declined.
On the day of the hearing, Hart's lawyer Davina Murray told the Court of Appeal he was not able to comply with the order to pay security costs.
In his decision yesterday, Justice Harrison said there was no evidence ANZ had used the bankruptcy process oppressively as Ms Murray argued.
He also took into account Mr Hart's failure to pay the security costs and his unsuccessful attempts to have the costs waived.
"More particularly, he has failed to provide the High Court with any financial details either of his assets and liabilities or sources of income, whether personal or from entities with whom he has associated, which might form a reliable basis for exercising the statutory discretion in his favour."
Last year Mr Hart lost his multimillion-dollar properties northwest of Auckland after owing $30 million to the ANZ National Bank.
Associate Judge David Abbott last year ordered Mr Hart to vacate the last property so it could be sold by the bank, and said Mr Hart was liable for the $20,543,951.92 outstanding on his bank loan.
- APNZ