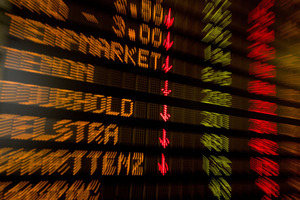 New Zealand shares dropped as institutions sold stocks to participate in a placement in Auckland Airport. Hallenstein Glasson and Steel & Tube both gained after posting better earnings.
The NZX 50 fell 42.46 points, or 1 per cent, to 4196.74. Within the index, 29 stocks fell, 10 rose and 11 were unchanged. Turnover was $474 million, making it one of the busiest days this year, reflecting the NZ Superannuation Fund's selldown of its Auckland Airport stake.
Auckland Airport dropped 5.8 per cent to $2.77. The so-called Cullen Fund sold 7.6 per cent of the airport company at $2.76 apiece overnight on Thursday, a 6 per cent discount to the previous day's close at $2.94, the highest since November 2007.
The sell-off was driven by "the massive placement in Auckland Airport", said Matt Goodson, portfolio manager at BT Funds Management. "Stocks needed to be sold to raise funds to participate" and the impact was seen across the market.
Infratil fell 0.4 per cent to $2.42 after saying it has not made a decision to sell down its holding in Z Energy or NZ Bus, as a media report speculated.
Fletcher Building, the biggest company on the NZX 50, declined 1.8 per cent to $8.87. Contact Energy dropped 1.5 per cent to $5.13 and Sky Network Television fell 1.8 per cent to $5.01.
Transport group Mainfreight fell 0.8 per cent to $11.99, Freightways was down 1.5 per cent to $4.50 and Fisher & Paykel Healthcare dropped 1.7 per cent to $2.34.
Steel & Tube, which sells steel building products, gained 4.3 per cent to $2.65 after reporting a 14 per cent gain in first-half profit and tipping second-half results to exceed those in the first six months.
Hallenstein Glasson Holdings, the clothing chain, gained 2.4 per cent to $5.45 after flagging an expected 15 per cent lift in first-half profit on "robust" sales in New Zealand.
Michael Hill International, the jewellery chain that bears its founder's name, fell 0.8 per cent to $$1.22 after posting a 5.9 per cent gain in first-half profit on Australian sales growth.
OceanaGold rose 0.7 per cent to $3.12.
The operator of the Macraes goldfield said profit for the 2012 calendar year more than halved from the previous year despite a 55 per cent increase in gold production in the fourth quarter compared with the previous three months to September 30.
Warehouse Group, the biggest retailer on the index, rose 1.1 per cent to $3.54 after government figures showed retail sales volumes rose by a faster-than-expected 2.1 per cent in the fourth quarter.