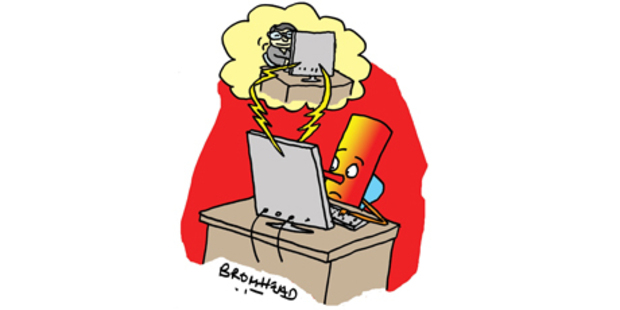 I am concerned about my future as a newspaper columnist.
The editor hasn't exactly said anything, but I suspect it's only a matter of time before the directors of this newspaper want to get rid of old word guzzlers recklessly consuming newsprint and switch production to China.
It is believed that a Chinese columnist could efficiently deliver this 400-word column for a fraction of the New Zealand cost.
What about quality? some readers might nervously ask, recalling some of the cheap crap coming out of Asia, such my garden hose that constantly kinks as I try to water the vegetables.
To the undiscerning eye there would be little difference.
The Chinese are expert plagiarists and would, in fact, cobble together columns from the best of the world's journalists.
Before you all start protesting at such underhand behaviour, remember, for years you've been accepting faked and copied consumer goods from China.
So, how would a Chinese columnist deliver a plagiarised column to the newspaper, often before the writer had a chance to file his original work?
Well, it's now been confirmed that Chinese hackers recently infiltrated the New York Times computer systems, stole the corporate passwords for every Times employee and used the identities to gain access to many of the staff's personal computers.
In a recent American intelligence report it's clear that Chinese hackers regularly steal emails, contacts and files from journalists working for Western news organisations and that the practice is both sophisticated and long-established.
Puzzled readers might still ask, if I'm aware of the problem, how could a Chinese columnist - even with direct hacking access to my computer - still beat me to my own deadline?
First, you have to remember that labour conditions are different in China.
For example, all Chinese columnists sleep on the factory floor next to their computers.
Other than occasional breaks to consume noodles and practice martial arts exercises, they work 24-hour shifts.
Unlike me, a Chinese columnist doesn't knock off for long lunches at the Northern Club or attend essential happy-hour drinkies with providers of government inside information.
While I'm preoccupied in such leisurely pursuits, my Asian counterpart will have swiftly nicked my half-cooked watery stew of 400 words and re-presented them to my delighted editor as a crisp and delicious Chinese takeaway.
Fellow columnists, it's time to face an unpalatable truth: the calligraphy is on the wall.