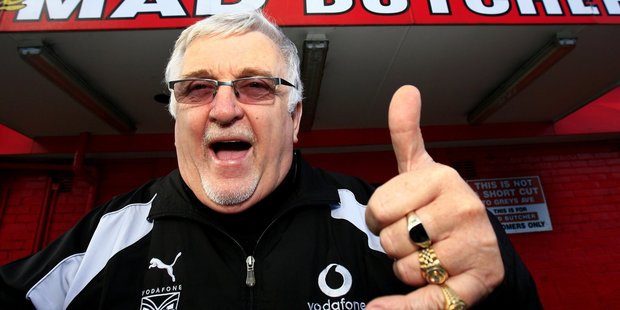 BUSY DAY
February 21 is set to be the busiest day of the half-year reporting season with up to 10 New Zealand listed companies expected to report their results.
Auckland Airport, Vector and Contact Energy are among three of the biggest due on that day. Many shareholders and analysts must wonder why the results cannot be spread out a bit more.
But then it is also very hard to know exactly when a company is going to release its results. While some put out stock exchange notices others say nothing about it until the day the numbers are released.
One researcher recently told Stock Takes he had to go to at least four or five different sources to put together a calendar of results - those sources included Bloomberg, Standard & Poor's, the NZX, and the companies themselves.
One wonders why the NZX can't just require all companies to notify the exchange of when they are going to release the information so that it can publish one central calendar.
PORK CHOPS ANYONE?
Amid the reporting season it looks like the prospectus for the Mad Butcher back door listing is likely to appear. One source close to the deal said February 22 was a possible date for the release.
That would fit in with its timetable of a March capital raising.
Veritas Investments still has to hold a shareholder meeting to approve the acquisition of the butchery chain but that would seem like a formality at this stage.
The capital raising is not likely to be that big with the whole purchase valued at only $40 million.
Shares in Veritas, which undertook a share consolidation this week, have nearly doubled in value since its initial announcement was made on December 20, even though no details of the purchase or financials for the Mad Butcher have been released.
Prior to December 20 the company was trading at $1.50. Yesterday Veritas closed down 5c at $2.75.
LOOKING ELSEWHERE?
With SkyCity Entertainment Group pondering a move into the Asian market through a possible Manila venture and a big focus on Australia through its A$350 million ($432 million) Adelaide rebuild it seems the gambling giant's focus is turning outside of New Zealand.
While the Auckland casino remains its biggest earner - with around 70 per cent of its profits driven from there - SkyCity's Aussie boss Nigel Morrison seems keen on expanding the business outside of its home country.
The Auditor-General's prolonged investigation of how the Government awarded the contract for the new $350 million Auckland convention centre to SkyCity must be irking the company.
Many would have expected construction to have started by now.
Morrison has also previously voiced his annoyance at the tight gambling regulations in this country.
Let's hope the situation won't drive SkyCity off the local stock exchange.
As the sixth largest listed company its loss would potentially mean even more of a tilt towards utilities.
SkyCity shares closed up 6c yesterday at $4.03.
SUBSCRIBERS DOWN?
News Corp's decision to place its 44 per cent stake in Sky TV into Fox Group post its split up of the business has prompted one Aussie analyst to upgrade its expectations for Fox.
Citigroup has increased its earnings per share expectation for Fox Group from A$1.43 to A$1.53 for its 2013 financial year and from A$1.72 to A$1.86 for its 2014 financial year.
But one New Zealand researcher believes Sky's result may not be as good as many expect.
Craigs Investment Partners' Mark Lister said while Sky's long-term outlook remained strong he saw potential for a disappointing result and some share price weakness as a result.
"One-off costs associated with the Olympics and the delayed Igloo launch should result in a flat earnings result. More importantly, in terms of the outlook we see a risk that subscriber additions may be tracking below expectations. At the AGM last year, Sky TV suggested that in 2013 it expected to add 17,000-22,000 subscribers, although we believe it may achieve closer to 12,500."
Despite this Lister said Sky TV remained a core holding with an excellent dividend yield and reliable cashflow.
Sky TV shares closed on $5.17 yesterday.
POWERING UP
Research firm Morningstar is predicting a strong first half for power company Contact Energy.
Contact recently released its operating stats for December and the first half of its financial year which ends on December 31.
While Contact's electricity generation was down its costs were also down, boosting margins.
Morningstar is predicting earnings before interest, tax, depreciation and amortisation to grow by 9.5 per cent to $252.7 million for the first half.
But it is less bullish on the full-year result predicting that growth will moderate in the second half of the year.
Morningstar, which has a hold rating on the stock, expects 5 per cent net profit growth to $184 million for the full year.
Contact is expected to report its half-year result in the third week of February when its main shareholder Origin Energy will also release financial results.
Contact shares hit $5.54 at the end of October last year but have trended down since then.
Yesterday they closed down 1c at $5.19.