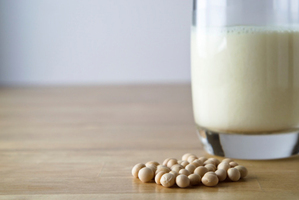 More Kiwis are swapping cows' milk for soy and other milk alternatives, new data shows.
Foodstuffs spokeswoman Antoinette Shallue said retail sales of soy milk in New World and Pak'nSave stores grew 3.4 per cent in 2011 and 1.5 per cent last year.
But she said the sales of rice milk and almond milk grew 8.1 per cent in 2012.
Vitasoy general manager Neil Hinton said there had been up to 30 per cent growth in retail sales of soy milk over the past five years.
But he said where growth had really been noticeable was in cafes: "It's almost exponential."
John Macphail, national brand manager of Muffin Break, said one in 40 of the coffees sold through his chain's stores was now made with soy milk.
Muffin Break says it sold
3 million coffees in 2012, of which 70,000 were soy.
In Australia, 7 per cent of coffees were made with soy.
Muffin Break does not charge customers extra for soy milk. Macphail said it cost about 25 per cent more to produce a soy coffee, but his company was absorbing the cost.
Of those who opted for traditional milk at Muffin Break cafes, 70 per cent chose blue top and 30 per cent opted for trim.