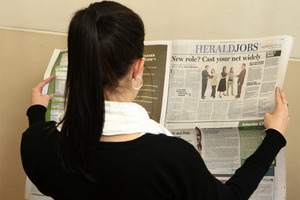 The latest tax figures offer some hope that the labour market is not quite as grim as official statistics portray.
Tax receipts data for the five months ended November, released by the Treasury yesterday, show the PAYE take - income tax paid by wage and salary earners - at $9 billion was up 6.9 per cent on the same period in 2011.
According to Statistics New Zealand's household labour force survey, over the year to September 2012 there was no growth in the number of people employed and the unemployment rate climbed from 6.6 to 7.3 per cent.
The quarterly employment survey, which quizzes employers rather than households, recorded annual growth of 2.7 per cent in average hourly earnings.
When combined with a 1.4 per cent increase in the number of filled jobs and some increase in average hours worked, that pushed gross weekly earnings growth (for all employees, not on average) to 4.6 per cent.
So either the labour market improved dramatically in October and November, or the official statistics, which are survey-based and subject to sampling error, painted too dark a picture of the labour market.
A number of economists dismissed the jump in the unemployment rate from 6.8 per cent in June to 7.3 per cent in September as too bad to be true.
Overall, the Government's tax revenue for the first five months of its financial year was up 5.3 per cent on a year earlier while core Crown spending was flat.
The operating balance excluding valuation gains and losses (Obegal) was a deficit of $3 billion, compared with a $4.5 billion deficit at the same point of the previous fiscal year.