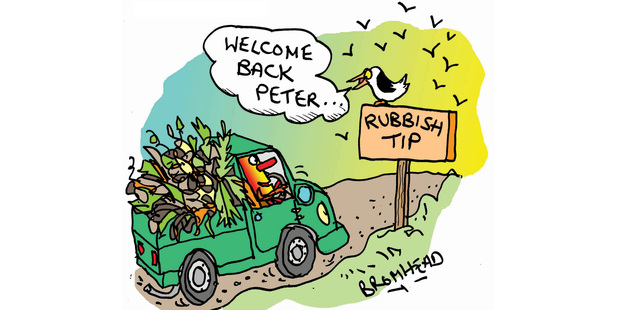 "So, what was your holiday highlight this year?" a friend inquired over a cafe coffee.
"Usually," I enthusiastically explained, "it's my customary trip to the Rotorua rubbish tip, following the annual garden cleanup."
Visiting the fly- and seagull-infested dump, with its cocktail of distinctive odours, is not for the faint-hearted.
However, for this hardened bach owner, arriving at the tip face with a truckload of vegetation is something to celebrate.
It means that once again, I have defeated nature's attempts to turn my holiday-house garden into something reminiscent of the Amazon hinterland.
This year, however, another event was the highlight of our vacation adventures, clearly edging out the excitement of visiting rubbish dumps, as I explained.
"What could be more interesting than frequenting refuse tips?" my cafe friend murmured dryly. Poor thing: he could only boast about his Christmas trip to Spain - studying Iberian architecture - and was clearly a touch envious of the richness of my lifestyle.
"Well," I explained, "something unusual happened on New Year's Day, when I took my young son swimming at the local pools."
Returning to our vehicle, I discovered I'd mislaid my car key, or had it stolen.
This presented a complex dilemma.
We were stuck under a shady tree, in wet swimming gear. Worse, the family dog was safely locked inside the station wagon. Naturally, we'd left the windows slightly open - enough for my son to slide his arm inside to attempt opening a door, but the vehicle was soundly deadlocked, so I called the AA.
After an hour of fruitless efforts to gain entry, including calling in an expert locksmith, it was agreed the problem was unsolvable, thanks to today's automobiles being electronically theft-proof.
The caregiver then arrived in the spare car and, as the household oligarch, instantly took charge of the situation, suggesting a course of action.
We had no choice but to immediately drive back to Auckland, find my spare key and return to rescue the dog.
This was a wearisome six-hour trip, laced with concern that by the time we arrived back in the small hours, the stranded car might be stripped of both mutt and possessions, but no, thanks heavens, everything was as we'd left it.
Thus ended my most memorable holiday experience of the year.
"On balance, though," I earnestly added, "I'd rather stick to visiting municipal rubbish dumps as my annual treat."