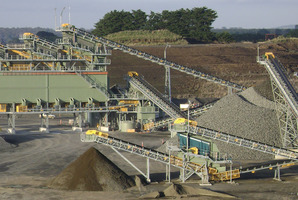 One of New Zealand's largest mechanical engineering firms has expanded its presence in the mining equipment sector through its acquisition of a North Island manufacturer.
Christchurch's Southern Cross Engineering has bought Rocktec, a Matamata-based firm which specialises in building equipment for the mining, materials handling, mineral processing and waste management industries. The company was owned by Auckland's Stevenson Group.
Southern Cross chief executive Paul Thorn would not reveal the price the 58-year-old company paid for its new business, but said Rocktec would allow the firm to expand into new sectors away from its traditional markets such as timber processing and heavy engineering.
"Knowing how contract engineering works, Southern Cross and Rocktec coming together is a very good fit," Thorn said. "I think [Stevenson] struggled with how to manage Rocktec."
He said the acquisition would allow Southern Cross to better weather "industry specific cycles" and there were opportunities to create synergies between the two firms.
"Now we've got both a North Island and South Island fabrication facility we can lever into the North Island for Southern Cross and lever into the South Island for Rocktec."
He said about 65 per cent of Rocktec's output went to Australia. Past projects have included building a crushing plant for the Kimberley Diamond Company in Australia and a slag processing plant for NZ Steel.
The company - which employs 40 staff including engineers, draughtsmen, welders and metal fabricators - also supplies Rocktec equipment to clients across the globe.
Despite a slowdown in the mining industry across the Tasman, Thorn said Rocktec still had plenty of inquiries for future business, including building a ship loader for an Indian firm shipping minerals out of Australia.
Southern Cross Engineering is owned by about 35 shareholders, all of whom are employees of the firm.