Warehouse and Fletcher among gainers edging NZX 50 towards 1000-point rise for the past 12 months.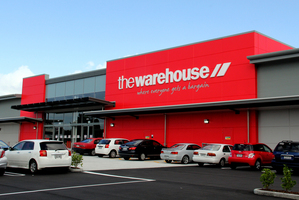 New Zealand shares rose yesterday as another consumer confidence survey showed improving sentiment, especially in Auckland, even as Australian jobs data disappointed financial markets.
The NZX 50 rose 27.58 points, or 0.66 per cent, to 4196.81, closing on a 1000 point gain in the last 12 months. On the same day last year, the NZX 50 stood at 3234.805. Within the index 22 stocks rose, 15 fell, and 13 were unchanged.
The biggest gain of the day went to Warehouse Group, up 3.23 per cent to $3.20, while heavyweight Fletcher Building was up 2.47 per cent to $9.11, having risen more than a dollar over the last six weeks and showing a 20.65 per cent gain over the last three months on the back of improving economic sentiment.
However, Rob Mercer of broking firm Forsyth Barr warned that while Fletcher's earnings outlook was undoubtedly improving, "it's still a challenging market".
"You're seeing people favour certain cyclicals, but like anything, the market is pushing some of the fundamentals close to fair value."
While equities were increasingly back in favour, especially with current low interest rates, he doubted NZ stocks would show another 25 per cent gain, as seen in the NZX 50 index over the past year. "The market now is very close to full value."
Outside the NZX 50, Turners Auctions gained 9.38 per cent to $2.10 after issuing a strong profit upgrade. Among decliners, Pumpkin Patch lost some of this week's gains, falling 2.8 per cent to $1.39, but remains 5.93 per cent higher than it was a week ago. PGG Wrightson fell 2.13 per cent to 46c. Also among stocks to fall was Air New Zealand, down 1.17 per cent to $1.265, amid reports that Boeing's Dreamliner fleet had been grounded in the US.
However, Mercer said there should be no impact on Air New Zealand from the news. The airline had deliberately chosen to delay receipt of its first 787 Dreamliner aircraft in order to take series 9 planes, whereas the grounded aircraft are series 8 and problems would be ironed out before the series 9 was released. "That was the choice they made," he said. "These things are good headlines at the moment, but they're not a reason for someone to be nervous about Air New Zealand."