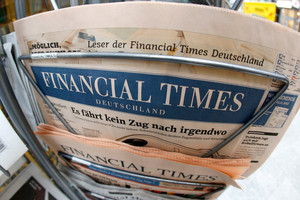 A newspaper's panel of stock-picking professionals was outdone in its 2012 investment challenge - by a ginger cat called Orlando who spent time paw-ing over the Financial Times.
The Observer pitted experts such as Justin Urquhart-Stewart of Seven Investment Management against students from John Warner School in Hertfordshire and Orlando.
Each team invested a notional £5000 ($9625) in five companies from the FTSE All-Share index at the start of the year. Every three months they could exchange stocks.
By the end of September the professionals had generated £497 of profit compared with Orlando's £292. But a turnaround in the final quarter resulted in the cat's portfolio increasing by an average of 4.2 per cent to end the year at £5542.60, compared with the professionals' £5176.60. All but one of Orlando's stocks rose during the last three months of the year.
The cat chose stocks by throwing a toy mouse on a grid of numbers allocated to different companies.
The challenge raised the question of whether the professionals, with their decades of knowledge, could outperform novice students of finance - or whether a random selection of stocks chosen by Orlando could perform just as well.
"It's time to crack open the Whiskas," said Mr Urquhart-Stewart. "The cat's got talent."
To celebrate his success, Orlando's owner, Jill Insley, has bought him a red collar.
- Observer