The 40 per cent File: Celebrating our exporters in their quest to boost New Zealand's exports from 30 per cent to 40 per cent of GDP by 2025.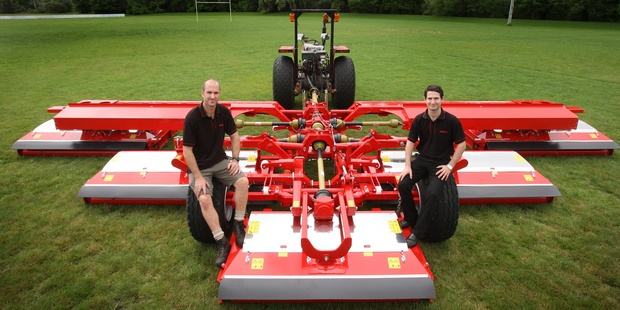 Our largely small- and medium-scale businesses are the key to driving the export growth we need to sustain employment and our communities - The 40 per cent File salutes them.
Each week over summer the 40 per cent File will highlight Kiwi ingenuity, innovation and export success - a snapshot of the amazing stories coming from our exporters. (For more success stories go to www.facebook.com/hookedonexport)
Sealegs
Sealegs has just exported two multimillion-dollar orders of its amphibious craft to Russia and Indonesia, both new markets for the company. The boats in Indonesia will be used for first response for disaster relief. One of the Russian boats also has Sealegs' new fully integrated fire pump. Other new export destinations last year included Gabon, Croatia, Antigua and Saint Martin.
Temperzone
Temperzone's Singapore office has been busy on the 9.5ha Kota Kasablanka development, the largest integrated, mixed-use commercial project in Jakarta, with a total gross floor area of 564,784sq m.
The project includes a retail mall, a hotel, a 30-level office tower, and two twin 32-level residential towers, plus four levels of subterranean parking and building services.
Farm Meats2000
The exporter is riding a wave of demand for ... New Zealand sheep ears. Its sales of sheep ears to the United States have rocketed 200 per cent in little over a year, to satisfy the cravings of America's pet dogs. In its last financial year it sold $3800 a month of dried sheep ears to the US which soared by the start of this season to $15,500 a month. It aims for $20,000 a month by March. Its Kansas City client has now combined the ears with emulsified bull pizzle to create a dog-food treat called Woolly Bullies and has high hopes for its nationwide success.
Flyhidrate
The company now features several elite athletes using its hydration system for air travel, and has expanded its distribution network to Australia and beyond. It has just won a product innovation award at a trade show in Abu Dhabi. Middle East airlines are showing interest, with Etihad pilots sampling the product, and a powdered form is about to be launched. www.flyhidrate.com has details and feedback from flyers about the positive effects of the beverage system.
Comvita
Comvita has a new product based on olive leaf extract, the trial for which showed it to support normal blood sugar levels and with potential to delay the onset of type 2 diabetes. Olive Leaf Extract Blood Sugar Support is sold in New Zealand, Australia and Hong Kong with Canada and Europe expected to follow.
Trimax Mowing Systems
Trimax says the sales of its giant 10m-wide turf mower X-WAM in the US now exceed US$1.2 million ($1.4 million). Turf farmers use it to mow 24/7 with the most novel application on a golf course in Britain where the "big and beautiful mower" is used to mow the fairways.
Export Tip
Watch what's influencing the exchange rate: With traditional agricultural commodities accounting for over 55 per cent of our export trade, our exchange rate tends to move in the same direction as our global commodity prices. Smaller exporters should keep an eye on their performance. But in these unusual times, with some of the largest economies diluting their currencies' value, this can be a highly complex exercise.
If you have racked up exciting wins internationally and want to share them please contact catherine@exportnz.org.nz or text 021-636-219.