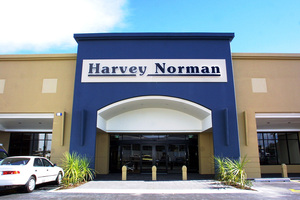 The advertising watchdog has dismissed a complaint that Harvey Norman's television ads are too loud, saying it has no jurisdiction to dictate ad volume or frequency.
Viewer C Kenneth wrote to the Advertising Standards Authority (ASA) complaining the "shouting" advertisements were "truly irritating and tend to invade my home environment".
The complaint was filed in December, after television networks agreed to tone down their commercials by January 1 to appease viewers, with TVNZ the first to adopt quieter ads in November.
C Kenneth complained last month that although ads were said to be quieter, the Harvey Norman commercial "still seems to be louder than other advertising".
"I have taken to switching my television off when this ad is played and I feel that I should not be assaulted and feel that I must do this in my own home," the complaint said.
The ASA chairman ruled that although there was no power to dictate ad volume, there was a responsibility for advertisers to make commercials that didn't breach the "social responsibility required".
The chairman ruled there was no breach and subsequently there were no grounds for the complaint to proceed.
The complainant's submission finished with the warning that they were not enticed by Harvey Norman's sales being yelled through the television.
"In fact, these ad types are turning me off from evening visiting Harvey Norman stores," C Kenneth wrote.
- APNZ