'Marmageddon' year turns out to be more of a bonanza for spread-maker Sanitarium.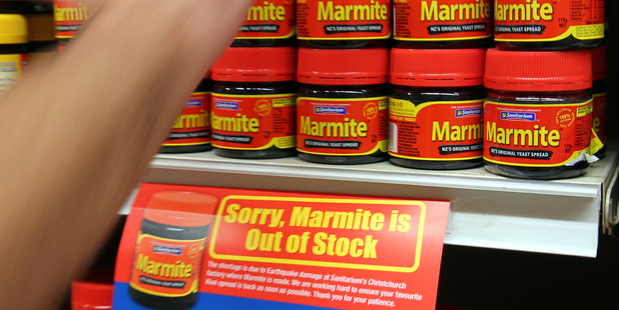 Despite the much-publicised Marmite drought, the Seventh-day Adventist Church has reported a lift in annual sales for its New Zealand-based businesses, which include Sanitarium, the spread's manufacturer.
The church does not disclose financial results for Sanitarium alone, but the Royal Oak-based food manufacturer's revenue is included in accounts the church lodges annually with the Charities Register for its "Group One" entities.
Those entities - which in addition to Sanitarium include Avondale-based Life Health Food, the manufacturer of brands including Lisa's and Naked Organics, and the Bethesda retirement village in South Auckland - reported total revenue of $182.1 million for the year to June 30, 2012, up 10 per cent on the previous year.
After deductions were made for the church's charitable activities and other expenses, the entities made a net deficit of $56,330.
Stocks of Marmite quickly disappeared from supermarket shelves early last year after Sanitarium revealed that earthquake damage at its Christchurch factory - the only plant where the spread is made - meant the facility would have to be shut for repairs.
James Standish, communications director for the South Pacific Division of the Seventh-day Adventist Church, said Sanitarium's New Zealand cereal sales had remained strong during the factory closure and had seen year-on-year growth.
"However, both from a revenue and cost perspective Sanitarium was impacted by the ongoing rebuilding of the Christchurch facility where Marmite is produced," Standish said. "The full cost of the Marmite shortage will be reflected in next year's accounts once our insurance claim has been finalised."
He said the Group One entities' sales in the current financial year would be bolstered by the church's acquisition of Vitality Works, a Takapuna-based provider of workplace wellness services.
"This purchase is part of expanding into health services to complement our health food range," Standish said.
Sanitarium has faced criticism in the past for the income tax exemption it enjoys as a result of being owned by a registered charity.
Its profits help fund the church's charitable activities, which include the Adventist Development & Relief Agency, schools and aged care facilities.
In a 2001 submission to an Australian inquiry into the definition of charities, New York-listed cereal maker Kellogg's complained that Sanitarium's tax exemption gave its Australasian rival an advantage.
Max Wallace, an Australian author and vocal critic of the tax exemptions enjoyed by religious organisations, told the Business Herald last year that churches had become "corporations trading on their tax-exempt status".
"It's certainly in the economic interest of governments now, with stretched budgets, to reconsider [the tax exemption] because the cost to the state is very significant," he said.
Sanitarium points out on its New Zealand website that it operates exclusively for charitable purposes and tax exemptions are available to all firms and individuals that limit themselves to such activities.
The IRD considers the "advancement of religion" a charitable purpose that qualifies for a tax break - a rationale Wallace considered "way past its use-by date ..."
Meanwhile, Sanitarium general manager Pierre van Heerden said the company was testing new equipment at its Christchurch Marmite-making plant and an update on the spread's return to supermarket shelves should be released next week.

Sales growth
Total sales for the Seventh-day Adventist Church's "Group One" entities in NZ, year to June
2012
Total sales: $182.1m
Net deficit: $56,330
2011
Total sales: $165.3m
Net deficit: $8.9m