Liz Eglinton followed her husband to Annapolis where she had an idea, Snapper Rock, that went global.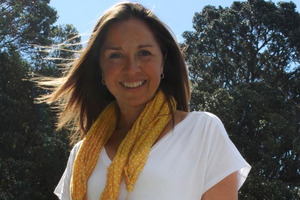 There are many reasons why women set up their own businesses.
Fast-rising marketing executive and food-science graduate Liz Eglinton was working at Lion Nathan "pushing beer" more than 10 years ago when her sister contracted cancer and died. Her ashes were scattered at a special family spot near their beach house up north, known to them as Snapper Rock.
Not long after, following her CEO husband, Mark, to Annapolis in the States with no job because of her visa status, Eglinton took off to the local community college and tried to drum up some ideas for a business plan.
"The US was a good 10 years behind New Zealand in terms of sun protection," she says. "The ozone is not nearly as bad but a big part of summer there is spending time by the pool."
The couple, yet to have their three children, were living in a sailing area of the coastal town and she watched 7- and 8-year-olds sitting around in thick, heavy T-shirts and no hats.
The result was a company and brand, Snapper Rock, which designs and sells UV50+ children's swimwear.
Nearly 10 years later the range is in 25 countries and 650 stores. It has acquired a celebrity following, with stars such as Elton John and Jennifer Garner buying them for their kids.
The mother of three says she gets immense satisfaction from protecting generations of children from the sun.
"Going down this track, I feel good every time I see a kid wearing one of my rash tops," she says.
Now back in Auckland, Eglinton is introducing the brand here through the mothers' website, www.mummii. co.nz. Eglinton would like to see the range in Smith & Caughey's, Kirkcaldie & Stains and Kid Republic among others.
She can point to the success she has had in the States. Snapper Rock is now a well established brand on the East Coast there - the range is found in Nordstrom and Barneys department stores as well as catalogues such as Garnet Hill and online with Amazon.
Eglinton initially introduced Snapper Rock to the sailing world, then, through trade shows, to the children's market, the swimwear market and lastly to resorts and surf gear.
The large hotel groups have been good customers for her swimwear. "We are in all the Four Seasons in Hawaii, in Hyatts, Marriotts, all their boutique stores. Resorts have massive growth potential," says Eglinton.
"A huge part of keeping ahead of everyone else is we are bringing out a lot of styles," she adds. The entrepreneur introduced 64 styles this season.
Eglinton has a global sales director in Annapolis, Julie Rich, another mum who goes with her to the trade shows. Eglinton says there have been many "kick under the table moments" when a huge order has come in.
"We have said yes, then worked out how to make it happen," she laughs.
The Kiwi entrepreneur, who now has four staff including Rich, works with four factories in China and one in India who are very responsive to changes in orders.
Englinton remembers a Dutchman recently attending a trade show and giving them a $100,000 order for the Netherlands market. His father had died recently of skin cancer.
The European market is five years behind the US market so has huge potential, says the Snapper Rock owner, who is selling through Amazon in the UK as well as the States.
With her daughter soon to start school, Eglinton is keen to increase the company's growth and will be spending more time in Annapolis to make this happen.
"I have worked from home for eight years. I never wanted to look back and wish that I'd spent more time with the kids. I feel I have got about where I want to be. The kids like what I do; it's good for them to see mum doing something."
Snapper Rock's turnover is more than $2 million, with 200 per cent growth since 2009. Eglinton is also selling into Asia, in markets such as Singapore, Korea and Thailand.
The next step is to find an external shareholder. So far she and her husband have reinvested everything back into stock.
Eglinton would sell a 25 per cent shareholding to a shareholder who could be based anywhere in the world.
"We are at the stage now if we want to keep ahead of everyone, we need to make an investment," she says.
"The priority is to get some capital. I have never advertised; there is so much potential," she says.
She has just moved to a warehouse that is big enough to cope with the next boom.
"That's very key in the States. You need to be able to upscale quickly. There is huge growth to come in the US. We are not even in the midwest, in Arizona or Texas," she says. One-fifth of Americans get skin cancer, she says. "It's a huge trend and it's never going to go backwards."
Snapper Rock's reach
* 25 countries where it is sold
* 650 stores that stock the range.