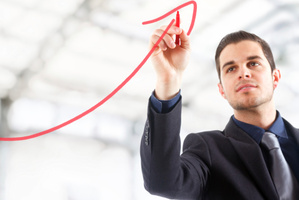 There is a proverb, it has many variations: that it is better to be a prince in a large realm than a king of a small island; it is better to have 10 per cent of a million than 100 per cent of 50,000. The proverb is true unless you fancy yourself as monarch.
Most people go from school to study then to work, forever living in an environment defined by others.
If they score good grades, work hard and make budget, someone will recognise their efforts and give them what they have been conditioned to desire; a pat on the head by someone in authority.
Research validates this. Employees value respect more than they do money and books are being written on conning staff into feeling valued so they will toil for less.
It works, but that is not the point of this column.
The scariest part of self-employment for many is cutting the apron strings of authority.
The world can be an ugly place and most prefer to shelter behind matron's blouse but, for me, there seems little point in living in a capitalist society and not being a capitalist.
Working for a corporate has serious attractions but the longer you stay, the greater the perks and the harder it is to leave. Remember this: no matter where you sit in the corporate hierarchy you are, and will forever be, subject to the whims of others. Only the business owner truly is the master of their domain.
Employees must think not just of the business but always of their place within it. The greatest pleasure for me in being self-employed was thinking only of the business. It is truly liberating, leaving behind office politics, petty managers and demanding shareholders.
To run your own business is to run your own small kingdom. You are its master and you reap your own harvest, whatever that may be. Until you have tasted this freedom you remain a serf.
Another insidious little parable states that 80 per cent of all businesses fail in the first five years. I can find no research to validate this. New Zealand has 500,000 companies and fewer than 3000 liquidations a year.
Not all companies represent a business and not all failures end in liquidation but this much is true, most businesses achieve some degree of success.
It is also often forgotten that most careers falter. There are many who seek a seat at the highest table but only a few whose bottoms grace the CEO's leather chair.
Tomorrow is New Year's Eve, a time for reflection and resolutions.
Starting your own business seems hard but nowhere near as hard as being over 50, having no skills other than "management," and looking for a job.