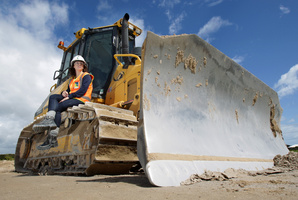 When 18-year-old Shannan Bell asked an earthmoving contractor if she could have a job operating his heavy machinery, she wasn't expecting him to say yes.
"It was a bit of a joke, to be honest.
"The biggest thing I'd driven [to that point] was a Ford Telstar."
The then-teenager was a management and accounting student but by the next day she was driving 40-tonne dump trucks.
Two years later, Ms Bell is part of the 170-strong workforce working on the Tauranga Eastern Link project.
These days, she is driving bulldozers, but she has learned how to operate scrapers, diggers and dump trucks along the way.
Being a young female in an industry traditionally dominated by men could be quite tough, Ms Bell acknowledged.
"You sort of have to prove yourself 10 times more because you're a female, and the fact that you're young as well."
Ms Bell said she had proven herself and there was no reason for women not to consider a career in the earthmoving industry.
"You do have to have a certain amount of confidence to actually get in the machines initially but once you're there it's good fun. I'd love to have a group of girls to train and get them into it but having the confidence is a huge factor."
Ms Bell is one of six female heavy equipment operators working on the Tauranga Eastern Link project.
The project aims to establish a four-lane highway between Te Maunga and the Rotorua/Whakatane junction near Paengaroa by 2016.
The Fulton Hogan HEB TEL Construction Alliance has been contracted to complete the job and has sub-contracted part of the earthworks to A & R Earthmoving Contractors.
Kensie Phillips, 24, was hired by A & R three months ago and has been operating a 40-tonne dump truck on the Eastern Link project for the past month.
Ms Phillips recently returned from studying Exercise Physiology in the United States wanting to do something completely different.
Her father, in the trucking business, suggested she try driving trucks.
The hours are long, but the money is good and the work is enjoyable, she said.
"It's awesome. From the second I got in it I loved it."
Reaction to her job choice has been mixed, Ms Phillips said.
"I feel like the older population, they're like gung-ho, they think it's so great, they think it's the most awesome thing, and that's probably 90 per cent of people in general.
"But a couple are like 'what do you think you're doing, you've got a degree, why should you be doing this?' But I'm having too much fun and I wouldn't want to be doing anything else right now."
For more articles from this region, go to Bay of Plenty Times