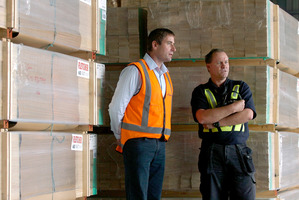 Tenon, the unprofitable wood mouldings company, said operating earnings should rise this year amid signs of recovery in the US housing market.
Chairman Luke Moriarty held off on giving specific guidance when he addressed shareholders at their annual meeting in Wellington yesterday, warning of "uncontrollables" that include a strengthening New Zealand dollar and uncertainty over fiscal cliff negotiations in Washington.
"Those issues aside, we do see improved performance from the company moving forward now, as broader market conditions continue to recover," he said.
Tenon gets about 90 per cent of its revenue in the US, so its fortunes have been closely aligned with its housing market.
In the first five months of the New Year, Tenon's sales in the new home construction market rose more than 20 per cent on the same period a year earlier. That market segment accounts for about 30 per cent of sales, while the retail market - typically home renovators - makes up 70 per cent.
The retail market typically lags behind home sales and new build as home buyers on average wait about nine months before starting renovations, Moriarty said.
"While our operating earnings in this first six months to 31 December will be up slightly on the corresponding period last year, the expectation is that our performance will gain further momentum in the second half ..." Tenon's shares closed up 2c yesterday at 76c. The company is 59 per cent owned by Rubicon.