Retiring DB Breweries boss recalls a major coup was securing rights to Heineken in 1994.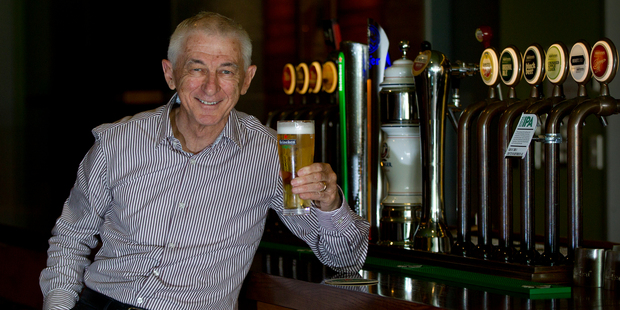 When DB Breweries boss Brian Blake first joined the company in 1983, as a finance director in the firm's Wellington office, he says the brewer was in a "rundown" state.
"With all due respect, Henry Kelliher had been managing director of the company for 56 years," Blake said. "I think as he'd aged, the company had aged."
At the same time, he said, Lion Nathan - DB's arch rival in the New Zealand beer market - was being "re-invigorated" by its then chief executive, Doug Myers.
Three decades on, after nearly 20 years as chief executive and then managing director of the brewery, Blake is confident he'll leave the firm in tip-top financial shape when he steps down early next year.
Speaking to the Business Herald in his office at the company's Otahuhu site yesterday, the 63-year-old said the right time had come for him to move on. "Twenty years is a milestone," Blake said. "I feel it's time to do a few different things."
He said he wanted to take on some directorships and would like to mentor up-and-coming businesspeople.
But while he would remain with DB as the firm's chairman, Blake said his final day as managing director would still be a sad occasion.
Blake said he was "extremely pleased" with the firm's recent financial performance, including three consecutive years of double-digit profit growth. Owned by Singapore-based Asia Pacific Breweries, DB reported a net profit of $26.9 million for the 12 months to September 30, 2011 - a 61 per cent increase on the previous year - on revenue of $481.5 million, according to documents lodged with the Companies Office.
The Carterton-born Blake said the maker of well known Kiwi drops such as Export Gold, Double Brown and Tui was still struggling when he took the helm in 1993.
"We still weren't in a great shape and so we focused on the brands. We had to get the brands right."
Blake, who personally signs off on every one of those Tui "Yeah Right" billboards, said a major coup was securing the rights in 1994 to brew and market Dutch beer brand Heineken in New Zealand.
That gave DB a product that could take on Lion's Steinlager.
"DB had for many years tried to launch a Steinlager equivalent - things like Kiwi Lager - which never really worked that well," he said.
"So rather than going head on with Steinlager we basically came over the top of them with an international, premium brand."
Blake said the New Zealand beer market, in which DB commands a 35 per cent share, had changed dramatically over his almost 30-year involvement with the industry.
With the rise of wine, ready-to-drink alcoholic beverages (RTDs) and spirits, Kiwis have gone from drinking 178 litres of beer annually per capita in 1978, to 64 litres a year today, he said.
Blake said the rise of craft beer would drive a huge "move to moderation" over the next decade.
"For a lot of beer drinkers there will be a lot more emphasis on less volume but more focus on flavour and quality," he said.
Blake said DB had placed most of its focus on the redevelopment of its Monteith's brand as a response to the rising popularity of craft beer, and the company would soon launch another boutique brand, Black Dog Brewery.
Further acquisition of existing brands, or the creation of new ones, were being considered, he said.
DB said Blake's successor would be appointed in the coming months.
Brian Blake
Role: Managing director, DB Breweries
Age: 63
Born: Carterton
Family: Married to Marian with two daughters, aged 25 and 22.