Fresh Up's catchphrase came about accidentally, reveals the man who made it up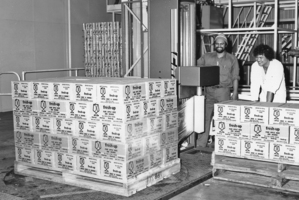 It was a catchphrase that stuck for decades but Fresh Up's "it's just gotta be good for you" was dreamed up, off-the-cuff, by Sir John Walker.
And the Olympic runner received no royalties for it.
"I was fluffing my lines all the time," Sir John recalled of the 1978 commercial. "I thought I'd take a shortcut and said: 'look guys, it's just got to be good for you'. It stuck."
But the advertisement was filmed in the days when sportsmen were amateurs and could not earn the sort of big money they would command in product endorsements today.
For the ad, which ran for more than 10 years, Sir John was paid $30,000, though he wasn't happy he lost half of it to the country's athletics federation because of the amateur rules of the time.
"It was like highway robbery," he said. "Everywhere I went, people would say to me 'it's got to be good for you'. No drink had been advertised like that in the past."
Fresh Up turns 50 this year. It was launched when the Apple and Pear Growers Board had too much leftover fruit. They decided to juice it and package it.
The first Fresh Up manufacturing line in 1962 created 1000 cans a day, which had to be opened with a can opener.
Now, more than seven million juice packs are produced a year, in tetrapacks and flip-tab cans.
Marketing manager Sandi Boyden said Fresh Up had just over 10 per cent of the crowded juice market. "It's evolved, we've seen a number of different products come into the juice category."
She said there had been a lot of innovation in juice products in response to changing customer tastes.
One of the challenges now is to produce products with low sugar content but Boyden said the original products were still popular.
"The sugar debate will always be there. Taste is something we won't compromise on. Consumers have the ability to make their own choices," she said.
The brand has moved away from positioning itself as a sports drink for athletes and now pitches itself as an option for the weekend warrior.
Sir John says he does not drink it as much as he used to. "But it's a very good drink, it's natural."