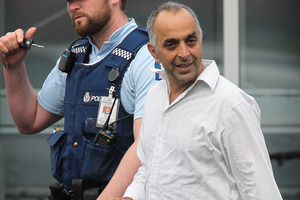 A man accused of racking up $3 million of fraud offences has claimed in court that Maori Party co-leader Pita Sharples and former Cabinet minister John Tamihere took payments from a casino outfit.
Loizos Michaels made the allegation under cross-examination at the Auckland District Court where he has denied 31 deception charges brought by the Serious Fraud Office.
He told the court that former Christchurch Casino chief executive Stephen Lyttelton was planning to take over Sky City with his friend, National Party president Peter Goodfellow.
Part of the plan was to bring people on board to stir up a negative media campaign about Sky City and bring the share price down.
Michaels told Crown prosecutor Christine Gordon SC that Dr Sharples and former Labour MP Mr Tamihere received money from Mr Lyttelton.
"Mr Sharples is a big gambler and I think [Mr Lyttelton] paid him about $100,000 to $120,000."
Asked when the alleged meetings took place, Michaels said he could not be sure because he had been in jail for two years.
Michaels said Mr Lyttelton met Dr Sharples several times and money was handed over at a marae in the West Auckland suburb of Kelston.
Ms Gordon cut in: "You're just making this up as you go along, aren't you Mr Michaels?"
Michaels said: "Not at all."
He said the two politicians were brought in to help stir up controversy and damage the Sky City share price.
"I have to defend myself eventually, yes, that's exactly what happened ..."
Ms Gordon asked Michaels how he believed Mr Tamihere was involved with Mr Lyttelton. Michaels did not answer the question.
Dr Sharples and Mr Tamihere have not been called as witnesses.
In a statement to APNZ, Dr Sharples said: "There is no truth to the allegation. I have absolutely no idea what he is talking about."
Mr Tamihere also rejected the claim that he received payments.
"If I did, it would be fairly easily traceable, there would be evidence of it and there's not."
Mr Tamihere said he met Michaels after being introduced to him at a bar on Ponsonby Rd. He said a group of people were sitting around and talking about a casino takeover.