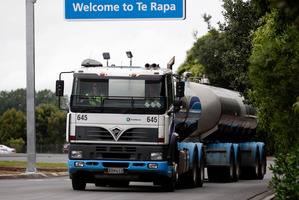 Fonterra's $500 million sharemarket offer has attracted intense interest, requiring brokers to heavily scale back applications and forcing some investors to miss out entirely, say market sources.
The "book-build" for broker allocations is complete, so brokers now know how many units they may pass on to clients. There is no public pool.
One high net worth investor said last week he had put in an application with his broker for $200,000 worth of units, only to have it scaled back to just over $10,000.
At the other end of the scale, one private investor said he had requested $15,000 worth of units with a retail broker, to be told he had missed out.
One financial market source said the initial public offer (IPO) process was more suited to institutional and habitual investors, rather than individual "mum and dad" investors.
"In New Zealand, they should make it more user friendly for mum and dad investors because it's good for the sharemarket in the long term," he said.
One investment banker said Fonterra's broker firm allocation was extremely well supported by the broking fraternity.
"So much so that the bidding was beyond what was realistic," he said.
At one stage, it reached a point where brokers were trying to "game" the process by bidding for more stock than they wanted in order to get some sort of allocation, so the amount bid did not reflect genuine demand, he said.
"In aggregate, the amount was less than the broking community wanted and they have had to scale back clients accordingly," he said.
The offer has been heavily promoted offshore and funds management sources said demand from overseas investors alone could have filled the offer several times over.
Expressions of interest are being sought from those connected with the industry, such as sharemilkers, under a separate "Friends of Fonterra" offer.
The book-build for brokers and Friends of Fonterra officially closes on November 21.
For institutions, a book-build will take place on November 26 and 27.
The ownership split between institutions, private investors and Friends of Fonterra will not be known until the final book-build is complete.
Overall, the offer caters for $25 million in oversubscriptions.
Fonterra has given an indicative price range for the units of $4.60 to $5.50 but the final price will be set on November 27. The units, which list on the NZX and ASX on November 30, will form an integral part of Fonterra's Trading Among Farmers (TAF) share trading scheme, which is aimed at offsetting redemption risk and at giving farmers increased financial flexibility.
- APNZ