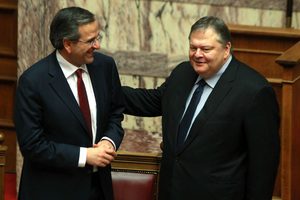 Greece's international creditors failed to agree yesterday on how to get the country's bailout programme back on track and put off again the release of the next batch of loans that Athens is using to pay its daily bills.
However, European finance ministers meeting in Brussels did decide to give Greece two more years, until 2016, to reform its economy - one of the conditions of its bailout package.
But they could not agree on how to pay for the extension, or when the country's debts would reach a manageable level.
"Today a huge step has been made in order to secure the programme on Greece, in order to enhance the confidence on the eurozone, in order to find a strong and definite solution for this question, which has lasted for more than two years now," said French Finance Minister Pierre Moscovici as he left the meeting of 17 eurozone finance ministers.
"We couldn't do more today."
The European Central Bank, the International Monetary Fund and the European Commission, which is the EU's executive arm, have twice agreed to bail out Greece, pledging a total of €240 billion ($373 billion) in rescue loans.
The country has received about €150 billion of those loans so far, in exchange for making tough budget cuts and sweeping reforms to its labour market and bureaucracy.
The bailout programme was supposed to steadily reduce Greece's debt until, in 2020, it reached 120 per cent of its annual gross domestic product a level generally considered sustainable.
But it has been clear for months now that the country is way off track from achieving that goal, although how far off track is a point of contention among its lenders.
The ministers agreed to relax the pace, extending the timeline from 2014 to 2016, although they declined to answer the more important question of how that extra time will be paid for.
The extension still needs formal approval.
Ahead of yesterday's meeting of the 17 eurozone finance ministers in Brussels, Irish Finance Minister Michael Noonan said the extension would mean €31 billion to €32 billion in extra financing.
- AP