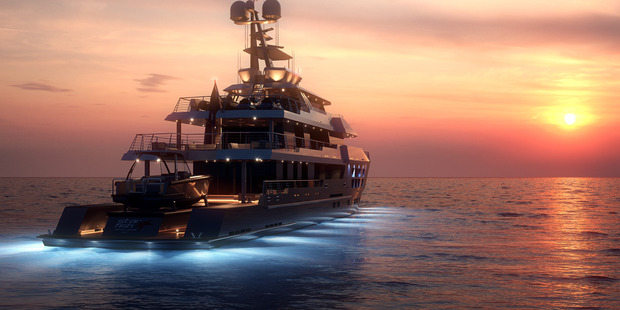 A planned $60 million luxury superyacht is going on sale unfinished and at a fraction of its estimated value after it was badly damaged in a fire at an Auckland shipyard.
The 50m luxury vessel Star Fish remains a work-in-progress at the McMullen and Wing shipyard in Mt Wellington after construction was halted by a midnight fire three months ago.
Yesterday the owner revealed he wanted to sell the unfinished superyacht, now valued at US$14 million ($17 million).
The yacht was 75 per cent complete when it was damaged in the fire, thought to have started accidentally in paint inside the shed.
It is now being sold at a reduced price. With a new superstructure and interior, it could be launched within 18 months.
"The fire destroyed the parts of the yacht's interior that had already been installed, particularly the nearly completed crew quarter," yacht owner Richard Beattie said.
"But it left the aft portions of the yacht virtually untouched. After the fire, the engine room machinery was still cloaked in its protective plastic."
Mr Beattie, the chairman of Aquos Yachts and owner of the McMullen and Wing-built US$29 million Big Fish vessel, said the "painful and heart-wrenching" decision to sell the Star Fish was made for financial reasons.
The charterworld.com website said the Star Fish was to have a salon, dining room and galley, six staterooms, accommodation for nine crew, floor-to-ceiling windows, an atrium stairwell, granite decks and space for a submarine or a seaplane.
McMullen and Wing is enlisting designers to submit concepts for scaled-down versions of the yacht for new owners to consider.
Commercial manager Michael Eaglen said the shipyard was eager to see the yacht sold.
Since the blaze, the Auckland yacht construction company had cut its staff from 100 to 40 because of the drop in work.
"It's incredibly hard times," Mr Eaglen said.
"But we are still in business and we're fortunate that we didn't suffer a lot of physical damage to our infrastructure as a result of the fire, which was very lucky."
- APNZ